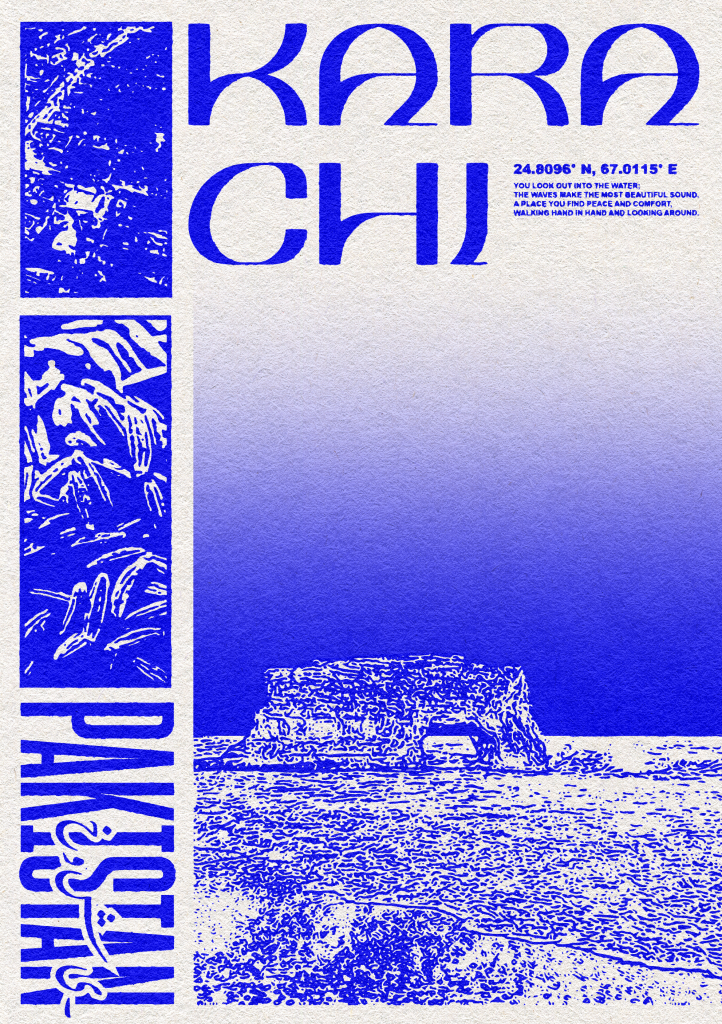 A GIFT TO LEEA
During the first week of the MDES program, our class was given the prompt "Gift". Essentially we were paired with another classmate at random, and we needed to get to know each other a little bit to then make them a gift of some sort. I was paired with Leea.
Getting to know Leea was great, we had conversations filled with interests, hobbies, nostalgia, and goals. I noticed Leea's whole mood changed when she brought up the beaches of Karachi in Pakistan. This deep, heartwarming sense of joy radiated from her when she talked about going there, and I could tell the recent move to Vancouver from Pakistan was very exciting but it is only inevitable that she misses home. It was from here I knew that I needed to give her a gift that she could turn to when she is missing home.
My gift to Leea is a sort of a love letter to Karachi in poster form. The layout of the poster is simple and geometric, it allows for the different pieces of imagery and type to be appreciated both together and separate. The two images on the left side are abstracted close up's of both an aerial view of the city of Karachi, and below that is a close-up of the spice cumin which is commonly used in Pakistan dishes. Below the images on the left is the word "PAKISTAN" with the Urdu script for "Joy" overtop of it. On the top right of the poster, I have chosen a modern display type called "United Elysium", which has a beautiful sense of movement to it while still being grounded and somewhat formal. Just under the title, I have the coordinates of Karachi with an anonymous poem about the beach. Under the title is the centerpiece of the poster which is one of the famous spots on the beaches of Karachi. This area has a gorgeous rock formation that pokes out of the water and adds that picturesque sense of nostalgia I was hoping to bring to this poster. In the coming weeks, I will be printing this poster out on the Riso printer, and then I will be giving it to Leea so she has a reminder of home wherever she decides to put it.