Topic ends last fall:
Design Slo-mo: Experience the spirit of Chinese aesthetics in modern homes.
Through the exploration in the last semester, I would like to talk about how traditional Chinese aesthetics co-exist with modern home design in a slow-lifestyle, by here I mean a low desire consciousness. Also, implement Taoism in people's lifestyles in order to a balanced and stable sense of emotions while being in the environment.
Moving forward to this semester, I have extract 4 key words from what I got last semester: material life, consciousness, oriental ideology, and home care.
What are the key studio inquiries that feel most energizing to spend more time
investigating in the studio?
The key inquiries that I would like to continue work on is home, material , consciousness.
I believe all of those inquiries are embeded in the context of care, either about home care, personal care, environmental care, etc. The oriental impact of ideology is the link to all these inquiries. There's another aspect that I would like to add in is nature. I would like to discuss how nature is going to fit into modern home since everything is tend to become smart and technological, I would like to hold that "green" space available under this kind of time background.
About Home, material and consciousness, I think those words are giving a framework to have a limitation on my large scope of thinking, it could be a way that I visualize my research goals.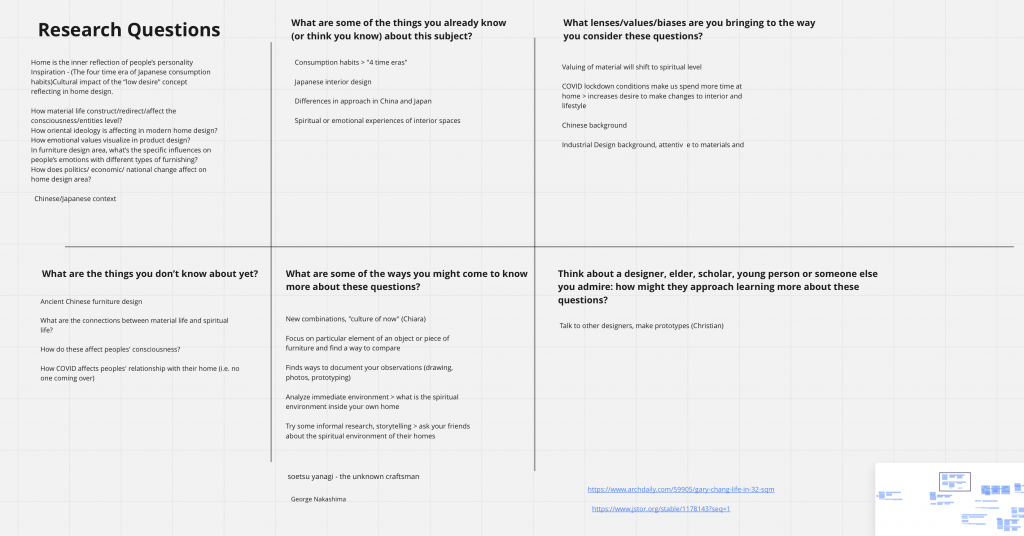 I got a little bit limit at the time to the consumption culture and furniture design area which shouldn't limit myself in a such narrow space. Laura and the cohort has given me many suggestions and recources on that.
Making without thinking and making with a purpose.
I cannot think all the time without my hands moving. I am recently working on an environmental design project with my student, the initial concept of this project is trying to show the beauty of how nature can incorporate within architectural design. Also, showing the inevitable relations among the universe. My teaching experience has somehow enriched ideas adding into my design research topics, the young blood has also showing me different perspective of views.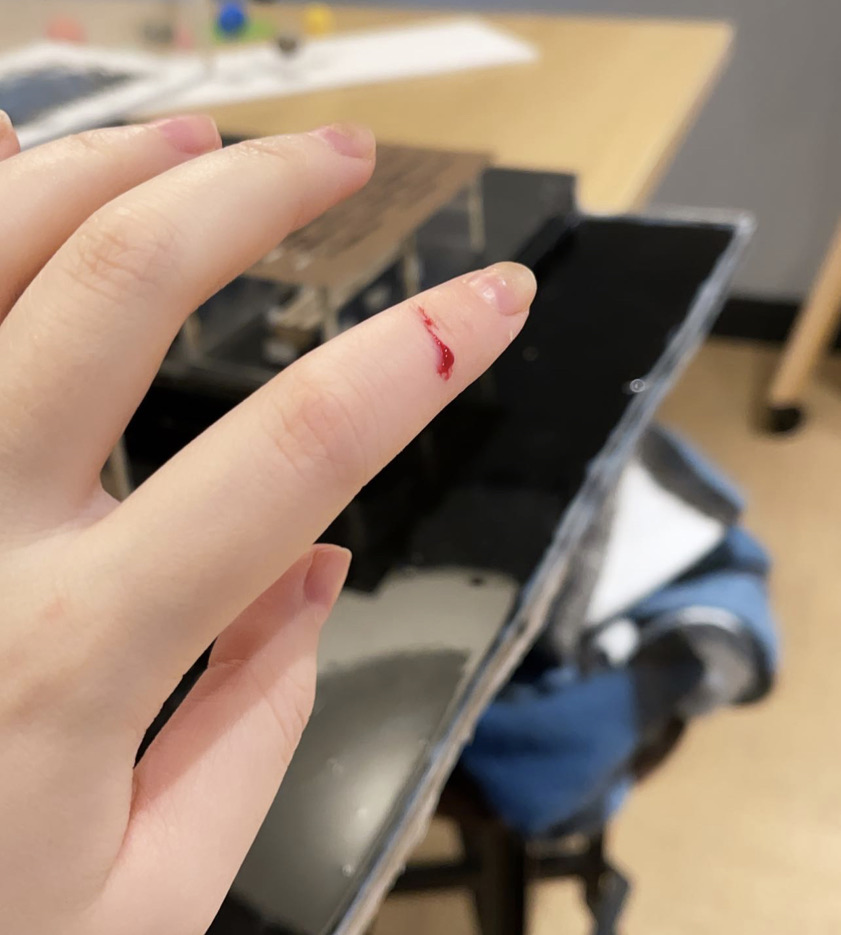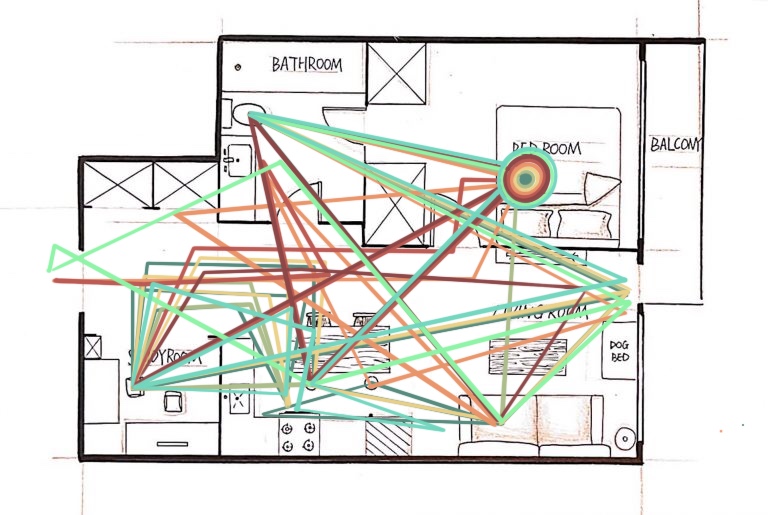 Sometimes at the moment, I confused myself, at the same time as the studio class, we are doing an activity of observing the habit on ourselves in Bonne's class. This activity has shown me an opportunity of how covid-19 has an impact on our physical and psychological health. Because of the Covid pandemic, I have been locked at home for most of the days. Since the semester starts, I rarely go out, so I started to record the places I travel in the room and start to think about the time period I spend in each area and how my body gestures have changed. I monitored the routine for a week and a half, besides some of the on-purpose change, I found I spend most of the time in a day sitting, in an unhealthy gesture: in Chinese we call it "Ge you slouch" which is a very bad sitting position for our spins. I found that recently my spin hurts more frequently than before, I just cannot sit straightly even in a working chair – I do a lot of weird postures. At this moment, I start to doubt myself if I would like to shift to the health design area. But the answer is no, after several days of struggling, I started remapping and talk to my supervisors.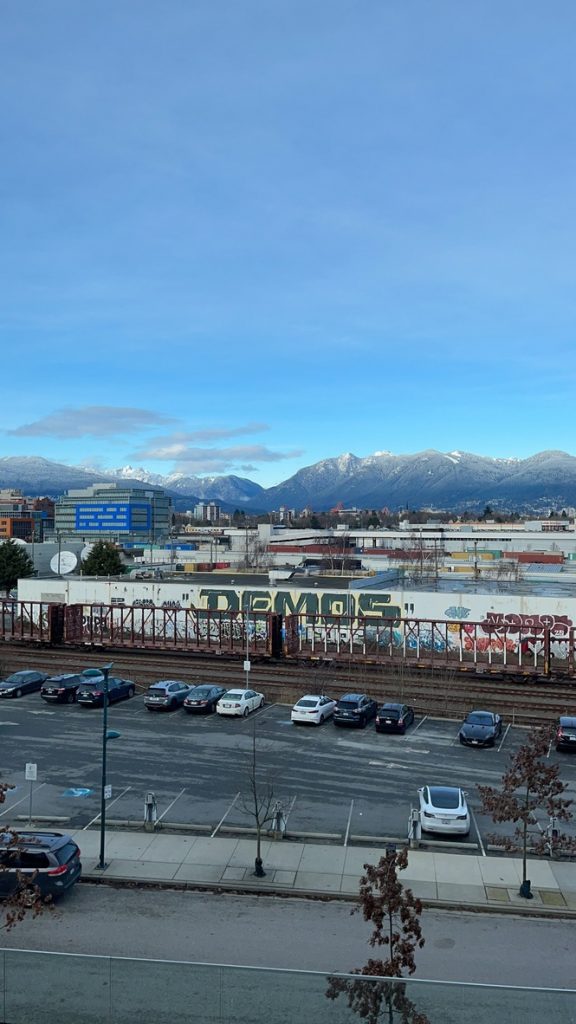 My supervisors have shown me the way how a master degree research and study. They have provided me some examples of exploring and some ways to settle ideas down to the paper.
First, I should understand WHY?
Why I want to choose home as the space background of my research?
Why nature and modern home?
Why does physical world affects spirital world?
Second, How?
How natural elements fits into modern homes?
How important it is to have an area "natural" at home?
How's my design research going to support/affect consciousness?
How oriental ideology plays the link role in this research?
Thirdly, What?
What makes my project innovative and interesting?
This is the "outcome" with my research in the next few semester.