For the final prompt of the semester, you will address the notion of research by conducting a design inquiry into an area of interest. Starting with curiosity, you will delineate a small space of inquiry, test a method of discovery and formalize your findings.
For the fourth and final prompt of the year, I chose to build on my work in prompt 3. In the third prompt, I focused mainly on secondary research. For this final prompt, I wanted to focus on the making.
The research question I landed upon was "How may we design a pair of modern performing skis using only dispersable materials?" The term "dispersable" comes from the Biomimicry institutes paper "The Nature of Fashion," and refers to materials that, when dispersed into the natural world, will fall into the cycle of nutrients present in nature without damaging it.
Around a similar time, I received the screenshot pictured below from a friend of mine. It's clear there's increasing demand for outdoor equipment companies to move their supply and manufacturing away from petrochemical-based materials.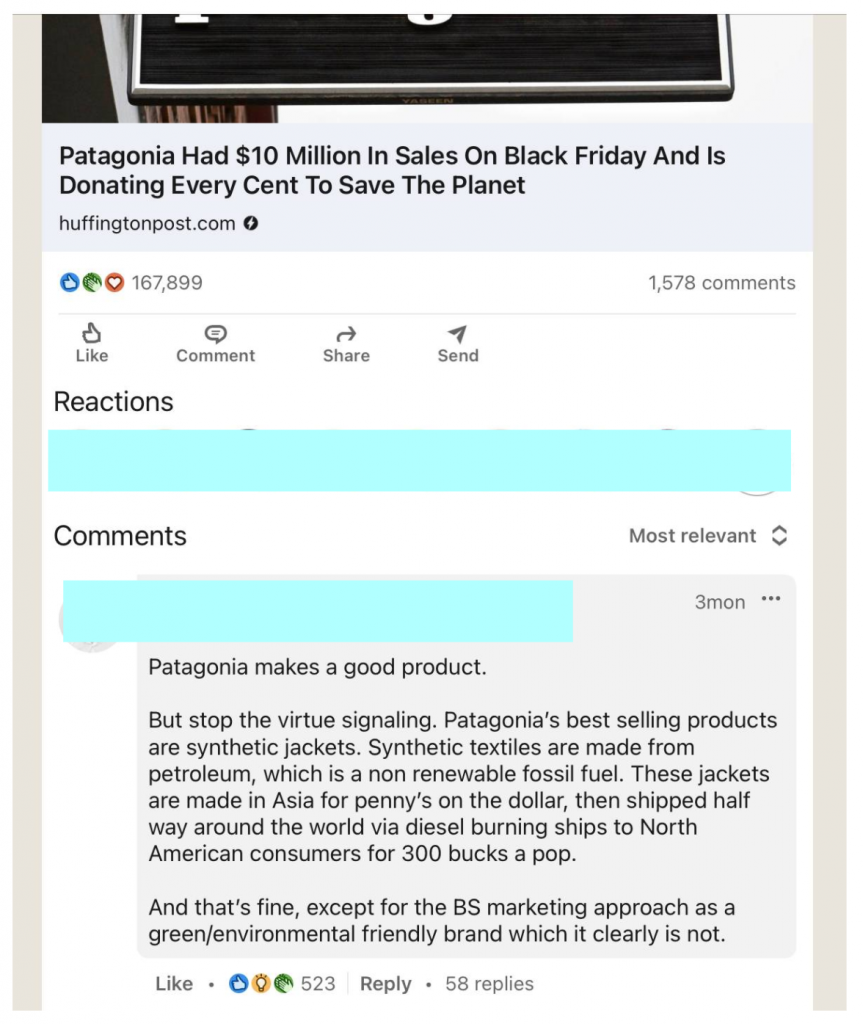 I began doing research into how to steam bend wood and the science behind it. It became clear that while there was the theory behind how it worked controlling all the variables to achieve ideal results takes time and practice to hone, and additionally, different sources would contradict each other from time to time.
Essentially, steam acts as a method of heat transfer in steam bending. The hot steam heats the piece of wood (without letting it cobust) to the point where the lignin in the material melts. At this point the wood is bendable and can be placed in a brace where the lignin can re-harden into the new shape.
After learning the basic science behind the process I had to start prototyping. Additionally I realized that my proposed research question was a bit more than I could accomplish in the given time period. Can I make a pair of skis using the traditional steam bending method? became my new goal before being further reduced to Can I learn to steam bend wood?
Trying to balance budget and time, I opted to make a wooden steam box out of scrap cedar I had poached (with permission) from my time working at MEC. Dowels along the middle of the box provide a platform for the wood to rest on so that steam can be received on all sides. The seams were sealed with dryer tape as it was able to perform under hot moist conditions, and a thermometer was placed at the far end of the steam intake to make sure it reached the golden 200 degrees farenheight. According to one source, it works best to heat the wood at 1 atm while another suggested using higher pressure as to penetrate the wood better. At this point in time, more experimentation and research was required.
Regardless, Leaky was born:
On a rainy day in December, I began my first test on the roof of my apartment. The box wasn't airtight so steam leaked out the seams, and since it was raining I decided to put a tarp over it. Once tarped I went back inside to let it heat up and hoped my neighbours wouldn't call the cops at the suspicious steaming object tarped on a roof.
After it reached 200 farenheight I put in a test piece of wood. Unfortunately, the tape didn't bond as well as I hoped and the box became too leaky and couldn't hold its temperature.
With papers due as the term was coming to an end I had to put the project on the back-burner for the time being. I plan to re-tape the box to see if I can get the seams to stay sealed, and if not I'll need to investigate other options. I'm very interested in the process regardless and plan to continue to do work on the practice. I know Christian Blyt here at Carr has experience with steam bending so I'm hoping to pick his brain in the new year. Additionally, I plan to continue my testing with thinner types of hardwood for easier bending.
My thesis question is trending towards looking to remove petrochemicals from outdoor equipment so though this work feels incomplete I look forward to continuing it. Additionally, a member of my cohort, brought up an important point to not get too wrapped up in traditional manufacturing methods and materials as there's a reason we moved away from them. I think a lot can be learned from the past, but I need to always be looking to make sure it will work for the future as well.