Prompt 4:The Questions Box
In 2020, I have lost a family member. Even though we were not so close when he was still alive. But this fact still shocked me. After his death, the thing that saddens me the most is that we didn't have an in-depth conversation before his death. For example, a conversation about death itself. I don't know if he loves me or not. What did he thinks and feel about my life choices? How does he see death? For him, what was the most important thing in life? Was he happy? What he would hope for his funeral be like. In what way does he hope to be memorialized after his death. There are so many similar questions that lost count of.
Therefore, it is precise because death is inevitable and will eventually happen. Talking about death should not be a topic that needs to be avoided. People should treat it as an opportunity to talk and think about their own death. An opportunity to understand yourself and understand what is most important to you. And has an opportunity to share these conclusions and thoughts with your loved ones. Based on this, I created this project called "Question box". The main goal of this project is to make people be able to face and imagine their own death. But in a comfortable and acceptable way.
At the very beginning, I was struggling with the approach method. So I draw a small mindmap to help myself to capture the idea and the goal I wanted to achieve.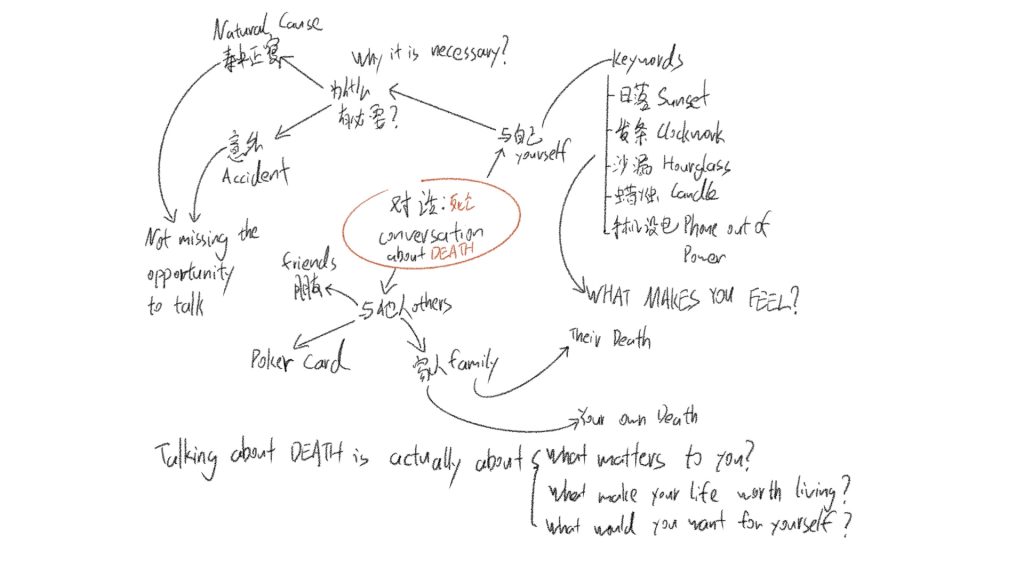 As you can see in the mind map. I used the sunset to represent the topic of "death". Because I understand how much people would dislike having a conversation about "death" itself. People always shying away from it. Therefore I thought maybe I should begin with something people experience every day and could be considered as "The end". So I thought about sunset. Therefore I shoot a short time-lapse video on campus. Just to get some inspiration.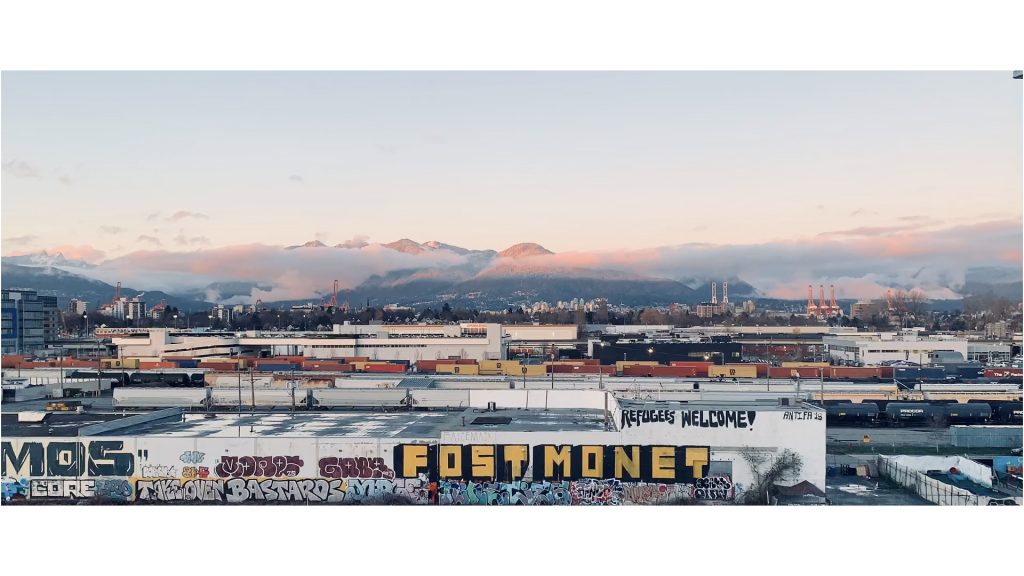 After the video, I was completely stuck. So my professor suggested I use some skills I know to form something. Therefore I designed a poster. An illustration of the sunset. And after many conversations with my friends. I finally have a direction. To create something related to "dying wishes".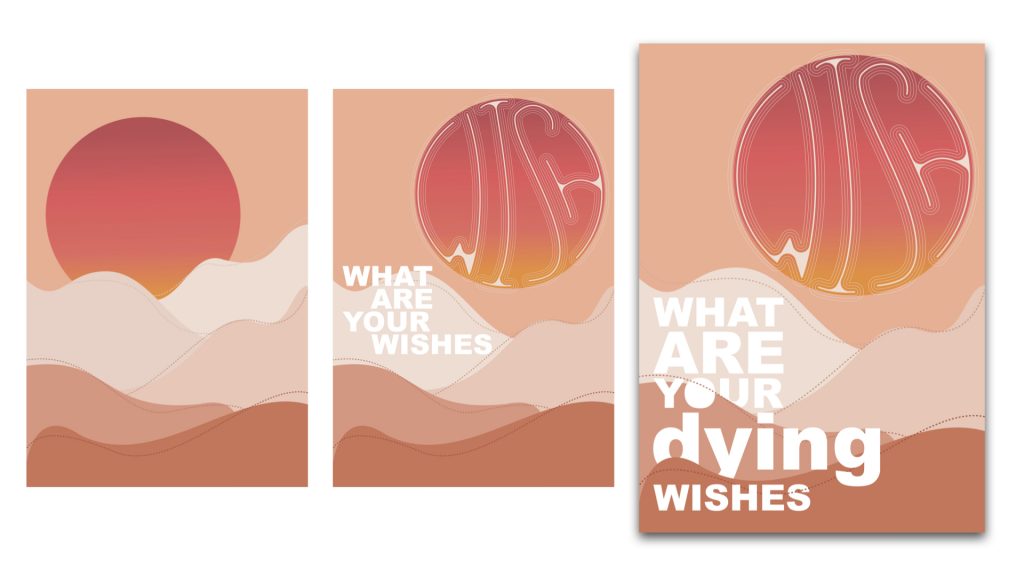 With that in mind. I created a game. Based on a game that is no stranger to many of you I believe. I'm not sure what this game is called. And it has different names in different cultures and countries. I just call it: "Question box".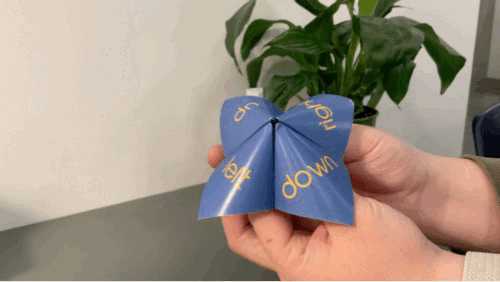 People can download the PFD of the game and print it. The instructions on how to fold the box are also below the file. If anyone wants to form their own questions, they can also download an empty sheet and write the questions themselves.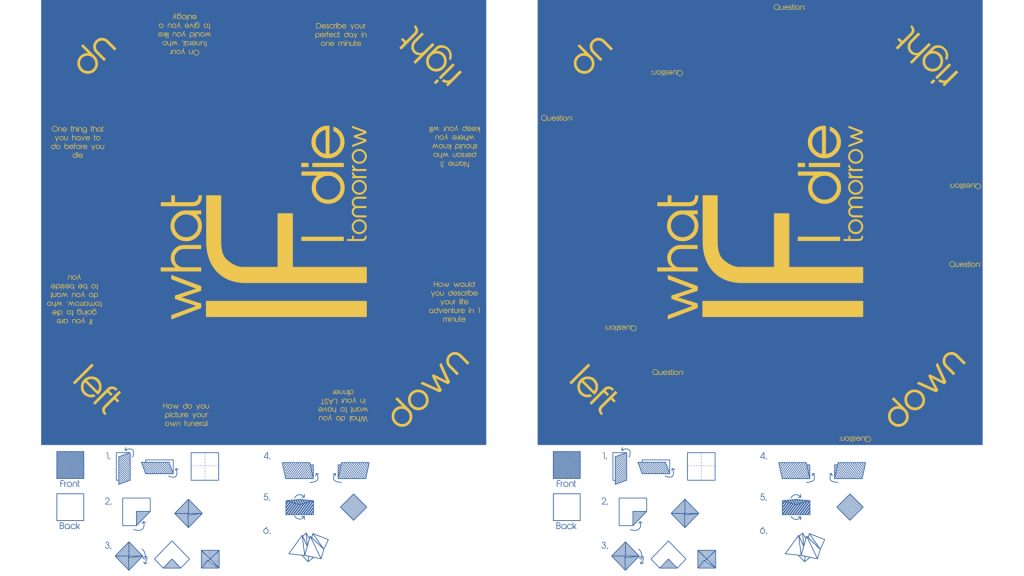 After downloading and folding the game. Participants will do something called "crazy 8 ". Participants put this question box on the hand. And ask participant B to choose a number of steps and directions to get the question. Then participant B would need to answer the question in either writing or drawing in one of the cubes on the answer sheet in 1 minute. You would only have one minute for each question. After one question is being answered. Carry on other questions until the answer sheet is full.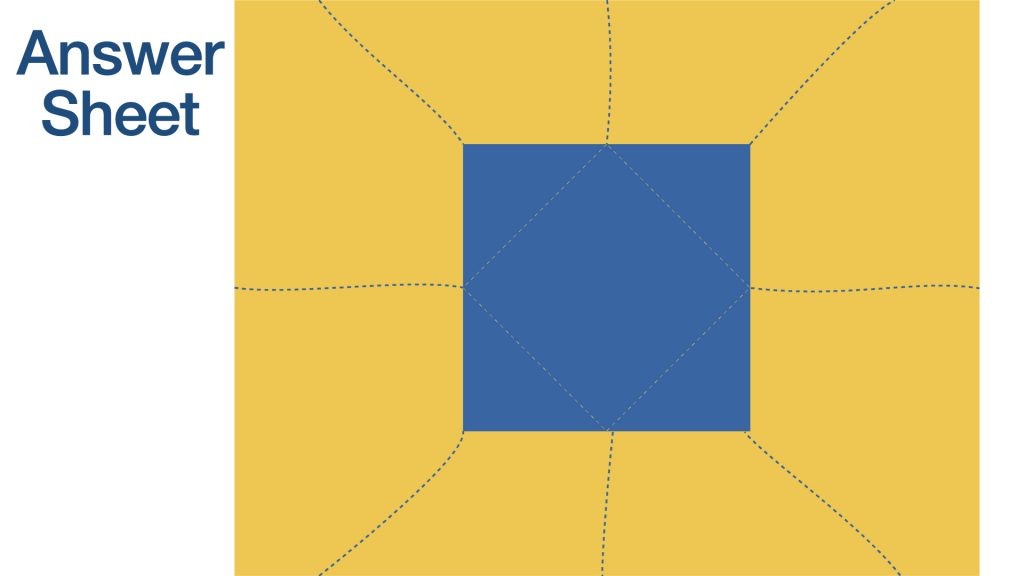 The rules of the game.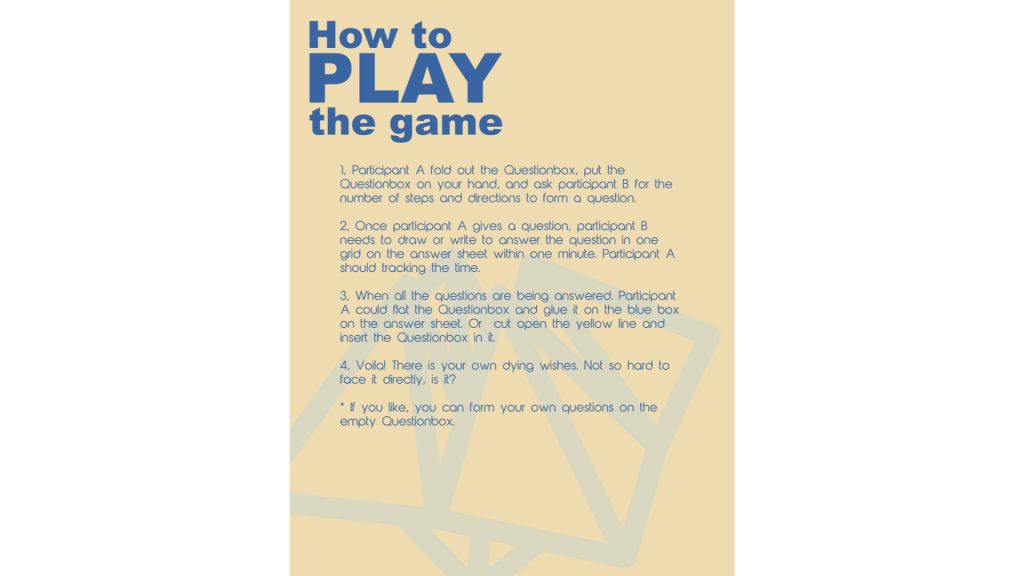 After all of the questions have been answered. You can flat the question box and glue it on the answer sheet right on the blue box in the middle. When you open the question box, you see "what if I die tomorrow". If you closed the box. You can see the questions and you answer them. And there is your very own thinking and answer toward death itself!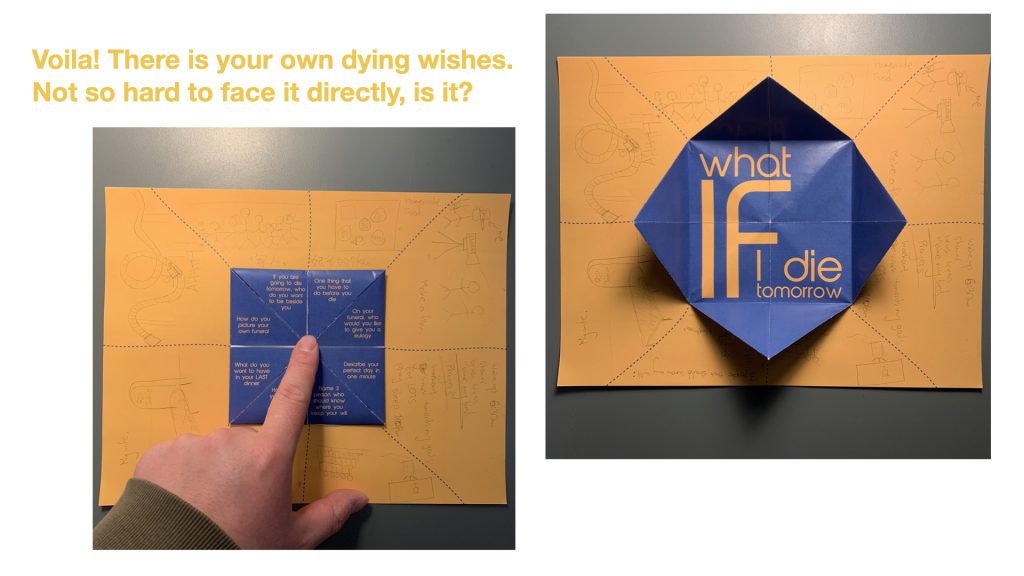 The game is very straightforward, and also playfulness. Because people will not have a longer time spent on the questions, it actually made it easier for the participants to form their own ideas about death and their life. And that is sort of my goal in this project. To make people think and talk about death earlier and more comfortable.