Our first ever class in the MDes program and what a fun one to kick off the fall term!
For the first project in our Grad Design Studio I Class, we were prompted to make a gift for a fellow studio-mate, whose name we'd pick from a hat. I picked Eden Luna Goldet! Eden Luna is a young designer, originally from France, who had just moved to Vancouver after recently completing a Bachelor in Design from Eindhoven in the Netherlands.
She was one of the first people who caught my attention in the classroom, simply because of how expressive she was – talking with her hands and nodding her head vigorously. I could tell she had a big, colourful personality that I absolutely wanted to get to know! Since it was both our first time in Vancouver, we decided to go out and explore the city, but had no clue where to begin. Lucky for us, Charlie, our fellow classmate, led us to Earnest Ice Cream, where the three of us spent a wonderful afternoon breaking the ice over scoops of Whiskey Hazelnut & Espresso Flake.
Between informal chats about our favourite foods (pasta, buffalo mozzarella, Indian-style Chinese, cakes), worldly travels (India, Netherlands, Mongolia, Denmark, Norway) and the things we missed about home (food, pets and family), to more serious conversations around our careers, the environment and politics, it was a stimulating afternoon of cultural exchange between India (me), France (Eden Luna) and China (Liyang aka Charlie).
As we headed out of Earnest, Eden Luna and I discovered that we lived just one street away from each other! On the bus ride home together, I learned more about the eccentricities of Eden Luna:
She has a cat – Jelly Bean (cute) and two pugs – Carabilulu & Pepette La Mobylette (adorable!)
She owns a pair of 14cm tall bright orange block heeled boots that she loves to wear to go dancing (WOW!)
Her Instagram handle @toutepetitiesorciere translates to 'Tiny Little Witch' (fun!)
She had her hair dyed orange, back when she was studying in the Netherlands (Oranje represent)
She misses the fine cheese and quality bread from France (Do better, Vancouver)
She enjoys making and playing board & card games (see Inner City by Eden Luna Godlet)
She travelled to India as a teenager for a 3-month exchange program in a city called Nashik (about 165km from Mumbai – where I'm from!), where she lived with an Indian family from the Jain community (solo trip to India at 16 – MAD respect!)
She was in an active theater group till age 16 (Dramaaaa Queeeeeenn)
The best gift she received was a horseback riding trip to Mongolia from her father (Good luck topping that, Priyanka : | )
The next day we arrived early on campus and decided to talk some more, over breakfast (by courtesy of The Oasis Wellness Kitchen at ECU). We were, once again, joined by Charlie, this time at the wooden benches in the Oasis Wellness rooftop garden on the 4th floor. A bright sunny day, overlooking the gorgeous North Shore mountains of Vancouver, laid the perfect setting for some more conversation.
I noticed a tiny tattoo on Eden Luna's left arm – a cute little zebra. Immediately, I wanted to understand the significance, as I'm fascinated by the things people choose to permanently etch on themselves. After a little hesitation, she shared a very personal story behind the meaning of this tattoo, which I don't feel like I have the authority to share here. I was moved by the fact that she was comfortable enough to share it with me (and Charlie). Obviously, my next question was "Do you have any other tattoos?". She quickly turned her back to me, pulled her long hair over her shoulder in front to reveal a beautiful tattoo – a moon, surrounded by bright watercolour-like splashes and a semi-organic geometric pattern of dots, in varying sizes.
Her face lit up when speaking about this tattoo and it's meaning. It is a visual representation of her very unique name – Eden Luna Goldet.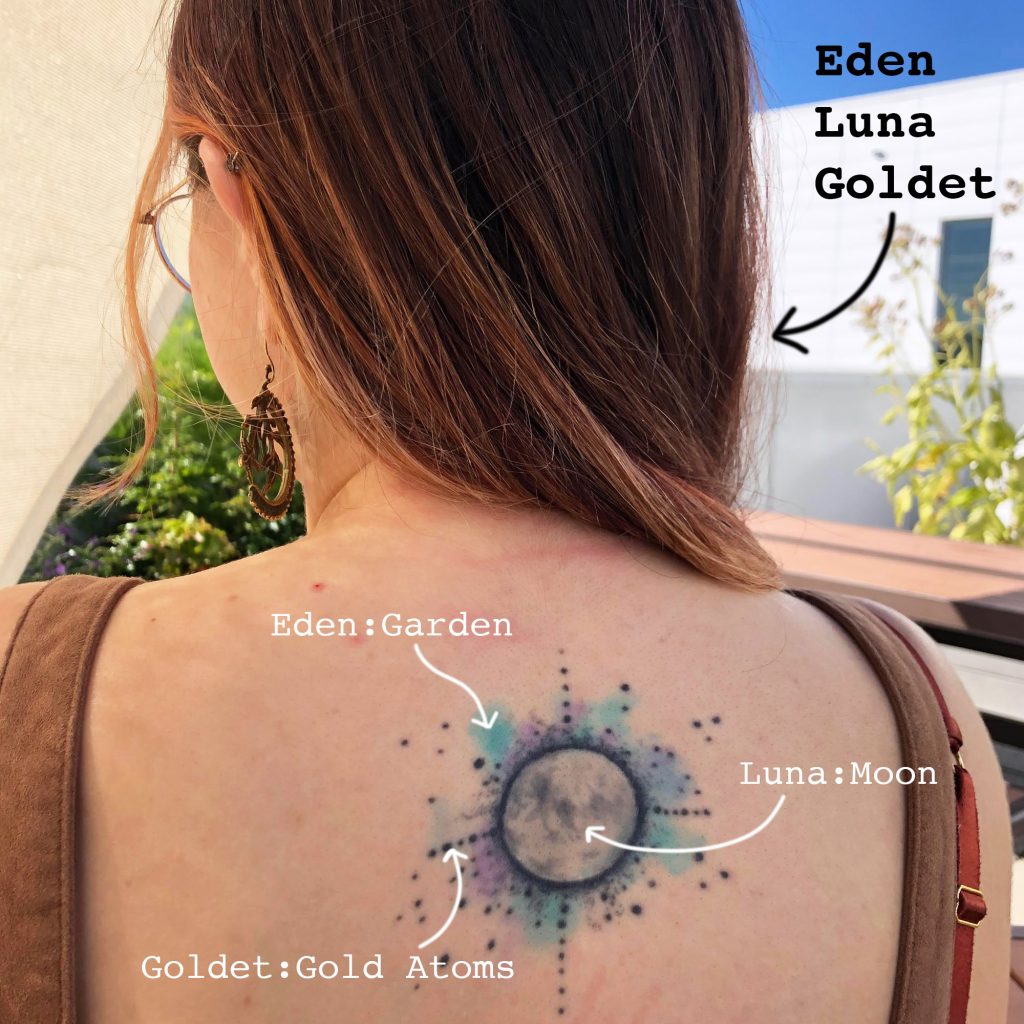 Jackpot! This was it. A great starting point for my gift. I began thinking about how I could incorporate these three distinct elements into a single gift.
I had a bunch of different ideas but I realized they were all heavily software dependent (graphic designer alert!). Now, having worked on a computer screen for the better part of the last 6 years, I was itching to do something by hand. I've always loved arts and craft. And, I've always loved hand-making gifts for family and friends. There's something so therapeutic about cutting up old newspapers, painting on wooden tea boxes, stitching fabric patches onto a worn out t-shirt…
Usually, I would allow myself all the time in the world to execute a hand-made gift (confessions of a serial procrastinator). I, most definitely, could not afford to take my sweet time for this one (hello one week deadline!). But, I had my gift idea. I was going to make a keepsake box using found material that incorporated the three elements of Eden Luna's name – Garden, Moon and Gold.
I started by rummaging through the recycling bin at my home. I found a discarded electronics box that was the perfect size and a couple of pizza boxes with bright purple and yellow geometric patterns printed and some old newspapers to use for paper mache. I then headed outside to my backyard to pick up some flowers and leaves that had fallen to the ground. A quick trip to the Dollar Tree for basic art supplies and I was at my desk, building the keepsake box.
A Hiccup in the Process.
However, halfway through the execution process, I wasn't feeling it, AT ALL! I looked at what I had made and felt extremely disappointed. It wasn't turning out as I had imagined it to be. Doesn't that happen to us all at some point? You excitedly start a project only to realize halfway down the line that maybe you didn't think it through clearly enough?! Well, I felt like a failure and wondered if I should push through to turn it around or just start again from scratch.
Making a gift is an important creative process to me. It gives me immense joy to make something with my own two hands that someone else can appreciate and enjoy. And so it was essential that I, myself, enjoyed the process, which would only reflect well in the outcome. So I slept on it.
Re-starting from Scratch!
The next morning, a cup of coffee and a hearty breakfast later, I was back to the drawing board. This time, I really knew what I wanted to do. I was sticking to the idea of a custom keepsake box but decided to add a few pieces to it. A second trip to the Art Store and I found myself hopping from one aisle to the other. I purchased a light wood box with an open lid, a circular embroidery ring, cotton threads in three colours – pink, green and black, a coil of hemp rope, a few laser cut wood flowers and leaves, paints, and a packet of brass thumb tacks.
I was ready! I started with the circular embroidery ring. I first sketched out the letter E (for Eden) in a serif typeface, with garden tulips on the side (a gentle reminder of her time as a student in the Netherlands). I then went on to hand embroider the design using the three cotton threads. Lastly, I added a hemp rope tying cord to the top of the ring clasp, so that she could hang this up at her desk, as a marker of her space.
For the second piece, I wanted to make her something that was reflective of my Indian culture. At the art store I was surprised to stumbled upon a packet of brass bells that looked a lot like the bells found on a musical anklet called 'ghungroo' in India. Ghungroo are ankle bracelets made with wide fabric wraps or knotted ropes strung together with small metallic bells. They are worn by Indian classical dancers to amplify the intricacies of their complex footwork to an audience. The number of bells on a ghungroo is indicative of the experience level of a dancer. The larger the number of bells, the more technically proficient the dancer. So I picked up the pack of bells and strung them onto the hemp rope, to make a ghungroo for Eden Luna. Once strung, I knotted both ends and made a clasp using the same hemp rope on one side of the ankle bracelet. This gift was representative of the 'gold' element in her name, as well as a subtle nod to her years as a stage performer. For me, the ghungroo is an aural personification of Eden Luna's bright and lively demeanour. She later revealed to me that she was actually given one back when she was studying in India, which I thought was a happy coincidence!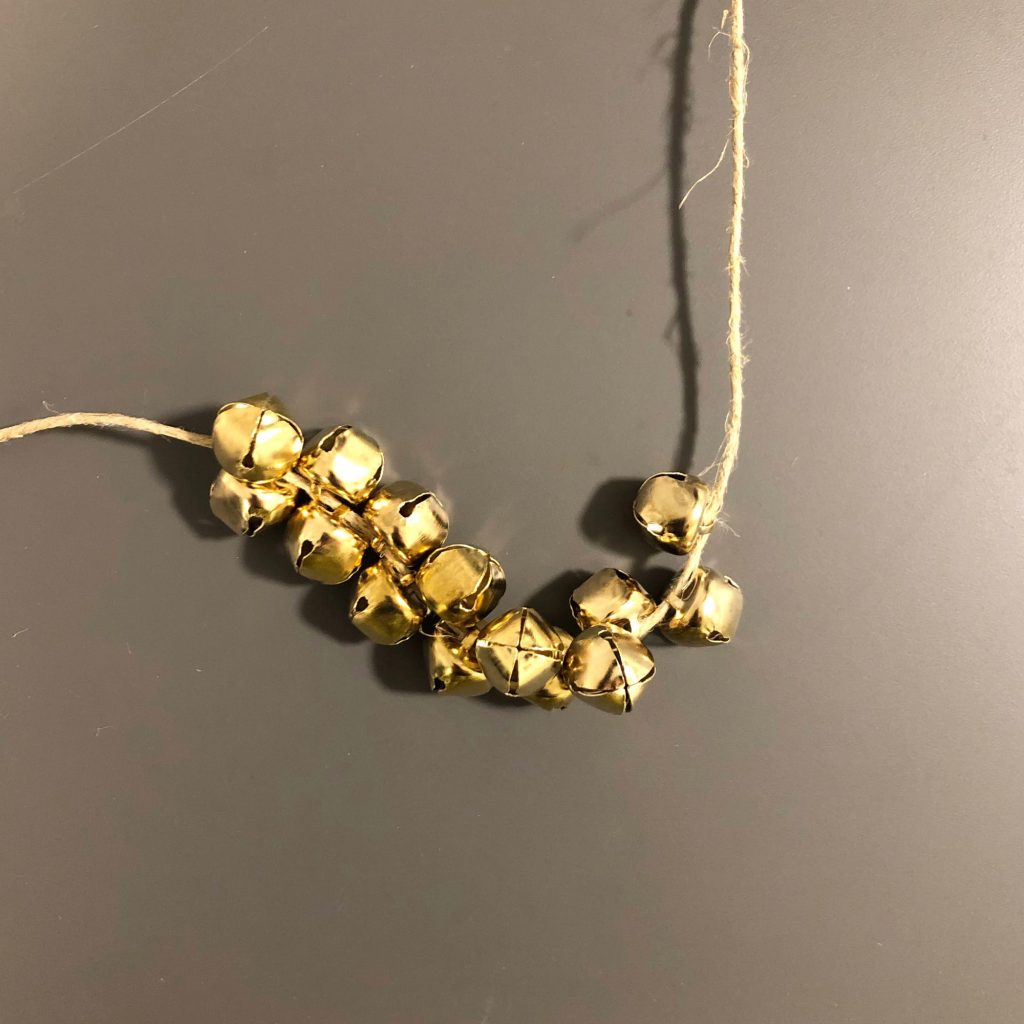 Putting it All Together!
For the final part of the gift – the box that would hold these pieces – I decided to decorate the top of the lid. I started by drawing a circle on a sheet of paper torn out of my sketchbook. I used coloured pencils to shade in a midnight blue moon and used a toothbrush to spray on a texture of white paint, after which I cut out the circle and pasted it onto the centre of the lid. Then, I proceeded to hand paint the laser cut flowers and leaves, which I would go on to paste around the moon on one side. To finish off, I stuck a couple of the loose metallic bells to the centre of the flowers using tacky glue.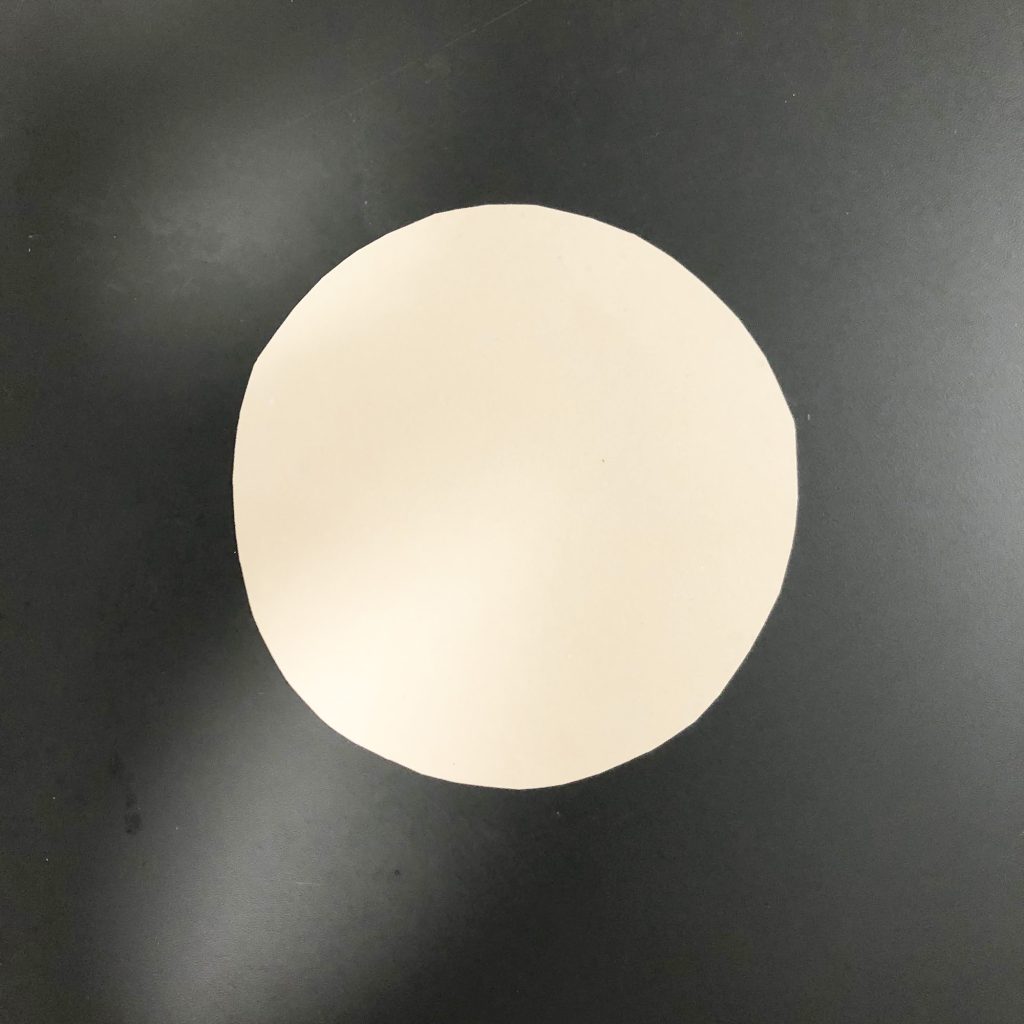 The Final Keepsake Box
Now that all the individual elements were assembled, dried and ready, I placed them inside the wooden box – the embroidered letter tag, the ghungroo and topped it off with a sprinkling of brass thumb tacks (to pin up posters at her new studio desk) and an extra laser-cut painted leaf.
I handed over my gift to Eden Luna during class, with an explanation much shorter than this loooooong blog post. She responded well and I believe she really liked it, since she displayed it at her desk right after class ended.
Reflection
I had a rocky start but I didn't let that dampen my spirits. I was surprised at how quickly I was able to turn it around but if I had to do it again, I would definitely plan better. I tend to have a million different thoughts and sometimes struggle with zeroing in on one direction. This project helped me reflect on my process as a designer – instead of immediately jumping to execution, I could have spent some more time thinking about the materials and the making process. Perhaps, sketching out the concept on paper, assigning the materials, colours and styles would have helped solidify the idea better as opposed to just writing it down and marching to the craft store! It had been a long while since I had used my hands to make something and so I wasn't completely happy with the finishing. I'm still pleased that I was able to make a complete gift, albeit not the most perfect. But then again, making something by hand is special in that it is never really perfect. Imperfections give it a character that's distinctive to the maker and exclusive to the receiver!