For the second project 'Material', we were to engage in a 2-week daily making practice with a material of our choosing – fiscal or intellectual and realize an outcome on the theme of 'origins'.
When I first started to think about this prompt, I began to recollect the various materials I had already engaged with in my design practice. Having studied architecture for my undergrad I had played with almost every physical material I could think of – concrete, wood, clay, gypsum plaster, metal, glass etc. Furthermore, as a visual communication designer, I have had extensive opportunities to build up proficiency in illustration and animation, which for me, ruled out software as a material. The freedom to interpret material in a broader sense allowed me to introspect and delve deeper into the tools that could become assets to my future practice in social design, where inclusion is a key consideration. I picked language as my material of daily practice – in particular, ASL.
American Sign Language (ASL) is the predominant sign language of the deaf community in USA and most of English-speaking Canada. Being a designer from India, at first, I debated learning Indian Sign Language (ISL) vs ASL, but ultimately settled for ASL as I was keen on associating with the deaf community in my current context (Canada), where I would be developing my practice over the next 2 years of the graduate program. My intent was to take in-person ASL lessons where I could properly engage with the deaf community in Vancouver. However, due to the tight 2-week project timeline and the high course tuition fee, I decided to begin with video lessons on Skillshare – a virtual learning platform.
I picked this course as it gave a good overview of the basics of ASL – enough for me to have a solid outcome and continue learning beyond the studio project timeline. The course is a total of 23 hours broken up into 176 videos including tests, that became easily available to me through a free 1-month trial!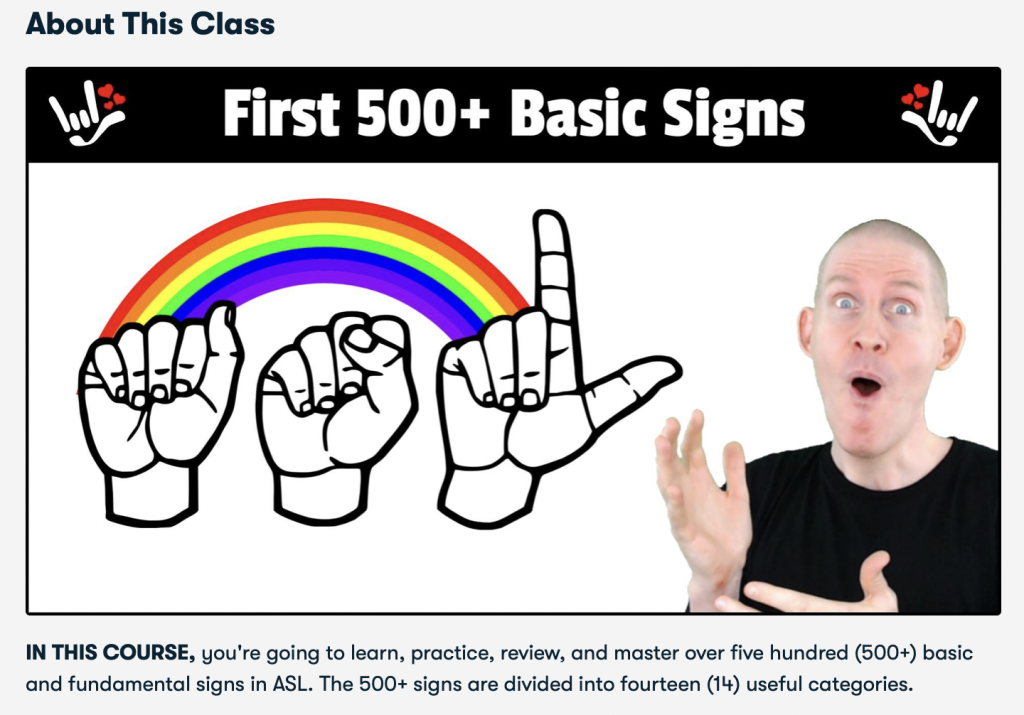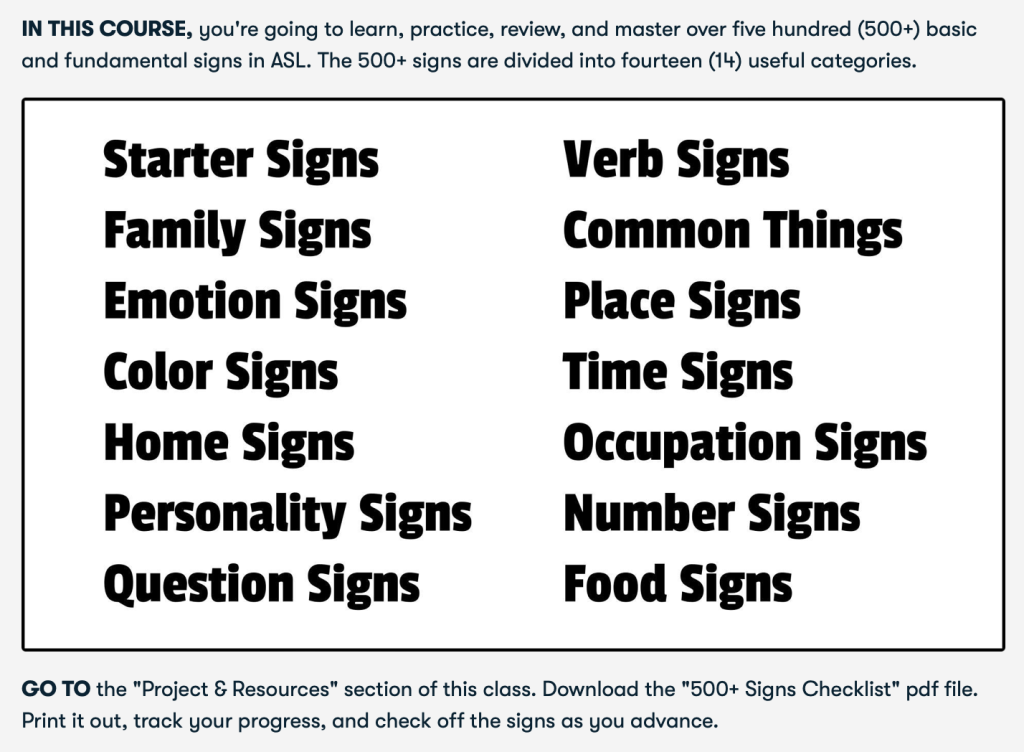 The course is structured such that you learn signs within various buckets (starter, family, emotion, home etc.) first, by slowly mimicking the instructor's hand and facial movements where he would demonstrate a single sign from 3 profiles – front, right and left. This technique was very helpful in creating an atmosphere such as that of a physical classroom where you would be able to view the instructor from all 3 dimensions. He would then ask us to repeat the sign with him twice over, this time at a quicker pace from a "rest position", which is having both hands placed in front of the stomach.
After the completion of each sign bucket, there were 2 time-sensitive tests, designed to help us better retain the signs. The first test involved the instructor calling out a word from the bucket we completed and us having to sign the word within 3 secs before he demonstrated the right answer. The second test was in a similar format, just that instead of us signing, the instructor would sign and we would have to recognize and voice out what the sign meant. This was so that we learnt how to interpret ASL in addition to learning how to sign it.
I decided to record myself taking these tests as a way to document my learning process.
My intent with the recordings was to create a bank of videos I could keep going back to for practice. I was also keen on observing and improving my facial expression as that is a crucial element of ASL. This was something that I struggled with in the initial stages, as I was focusing a lot on the hand movements and less on my facial expressions. But as I moved ahead in the process, I found myself getting more comfortable with both the signs and expressions as well as the camera.
The time I spent learning, varied daily in the 2 weeks of the daily practice. Some days I would get through about 3-4 short videos (roughly between 8-14 mins each), and other days I would have the mental capacity for just one or two. At the end of 2 weeks I was able to complete about 45 videos and learn more than 50 signs and some basic phrases.
For the final outcome, I recorded a short video of myself using ASL to speak about "my origins" and my intentions for my design practice.
Reflection
What I found the most challenging was learning in isolation. Language is inherently social and so omitting the social aspect of learning definitely made it harder to maintain it as a daily practice where I had no one to practice with but myself. Since I was learning mostly singular words, I was worried about not being able to sign full sentences as part of the final outcome. However, the beauty of ASL is that it has it's own grammatical structures: 'Subject-Verb-Object' or 'Subject-Verb' as well as 'Time-Subject-Verb-Object' or even 'Time-Subject-Verb'. This makes it far easier to string together signs without the complex use of articles and conjunctions.
This was personally, a very fulfilling project to work on. I understood it as a process in becoming a more well-rounded designer. It is the beginning of a relationship with a new community that I look forward to pursuing further.
It helped me observe, question and critique many daily interactions that I take for granted as a 'hearing' person. One of these interactions that I have everyday is with the bus transit to campus and back home. The LED bar displaying the Next Stop is only visible right at the front of the bus while the recorded announcement is heard throughout. This would make it hard for a deaf person to anticipate their dismount from the back of a crowded bus where the LED panel isn't always visible. Similarly I look at the subtitles and closed captioning in films and television that have the potential to be better designed to give a high-quality, descriptive viewing experience for deaf persons.
As a designer, this process has encourage me to go beyond standard ways of improving my design arsenal. It has shown me that there is immense value in picking up skills and practices outside of the traditional design sphere in order to influence and advance my practice in positive ways that are inclusive of all communities.