The beginning of this new semester, I found myself in a Spring mindset – a refreshed mind drumming with enthusiasm, curiosity, and some newfound skills eager to explore, ideate and experiment.
Taking the insights gained from the Fall semester research as a starting point, I wanted to explore education and awareness about menstruation and the female body further within my peer group. A straightforward way to do this would be to create a survey of questions that they could each fill out in their own time, at the end of which I would analyze responses to see if any patterns emerged. Although this would be an appropriate method of researching, what emerged from my previous studio projects were a number of interesting interactions, enriching conversations, and questions amongst the participants. To build on this collaborative exchange, I decided to conduct a short game inspired by my interest in playful learning techniques!
I called it 🚨Red Alert🚨– a euphemism for menstrual blood.
First, I asked the 14 people present in class to split up into pairs to form 7 teams, encouraging each one to pick their team mate wisely, knowing that the game revolved around knowledge of menstruation. I then proceeded to hand out the game sheets containing a set of 7 open-ended questions/prompts, each designed to help them reflect on what they already knew or had learnt about menstruation and women's bodies. The goal was to come up with responses that would differ starkly from their opponents. No right or wrong answers – the game was intended to enable a free exchange of knowledge, feelings, and observations devoid of shame or judgement.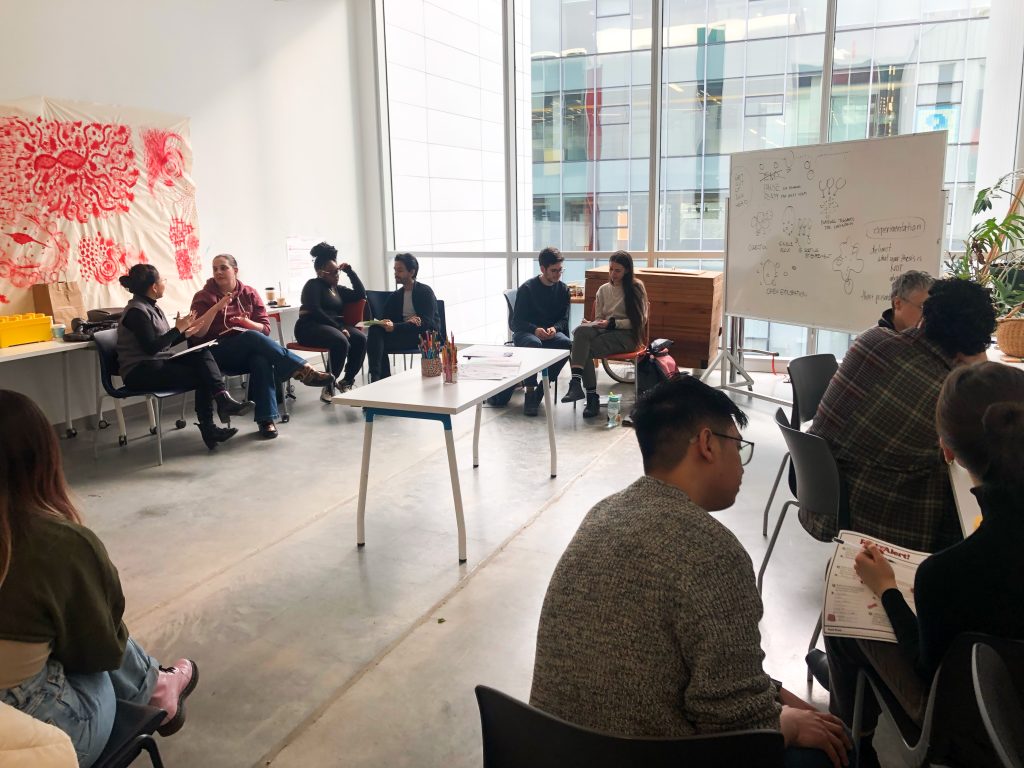 A point ⭐ would be awarded for each unique response to a prompt on the card. For every team that had a similar response to the same prompt, no point would be awarded. The team with all 7 points would win the game, and a bar of dark chocolate! 🍫
All teams were given 15 minutes to fill out their game cards. A few queries and some intense team work later, they were ready to begin sharing answers and scoring points. As 'game master', I began round 1 by asking each team to read out their response to prompt 1, starting in an anti-clockwise direction, all the while keeping score. We did this for 7 rounds with each team explaining their responses, at times diving deeper into personal stories and lived experiences.
At the end of the final round of sharing, we had two teams that made it to 7 points. A quick tie-breaker (name one more part of the female reproductive system that's not listed on your sheet) later, we had our winning team – Eden + Howsem!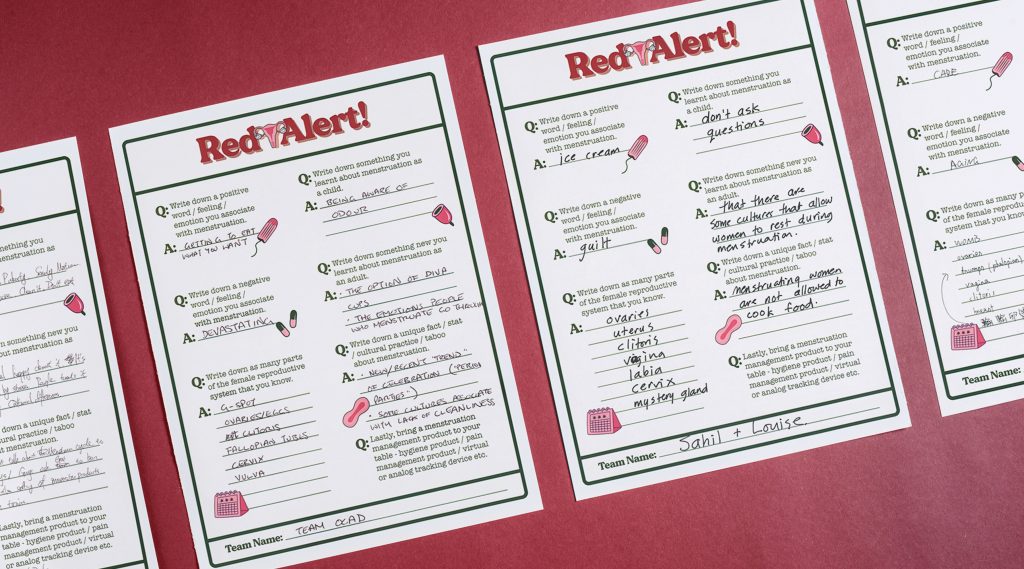 Reflection
The game ended with my hope that everyone in the room had gained new knowledge about menstruation as well as a renewed perspective on the intricacies of the female body.
My primary objective with conducting this game was to test out creative and playful ways to engage groups of people in conversations around serious/uncomfortable topics. Having previously conducted research projects solely within the female students in my cohort, this time around I was very keen on getting both male and female students to work together.
Several interesting qualitative pieces of information have emerged from this experiment, which I hope to distill into specific patterns or data points that may guide my future research. The spirited participation has inspired me to consider other innovative and meaningful ways of educating youth about sexual and reproductive health that fosters a fearless, shame-free, and inquisitive environment of mutual learning and respect.
Experiment 2: Colour-a-Vulva
During my stay in Los Angeles over the Winter break, one afternoon while exploring the Arts District, I noticed a cheekily titled book on a shelf in the ARTBOOK @ Hauser & Wirth bookstore. I just knew I had to pick it up! 😛
First published in 1975 by lesbian activist and artist Tee Corinne, the Cunt Coloring Book was created as a resource for sex education.
(www.lastgasp.com)
FOREWORD by Tee Corinne
"In 1973 I set out to do drawings of women's genitals for use in sex education groups. I wanted the drawings to be lovely and informative, to give pleasure and affirmation. I organized the drawings into a coloring book because a major way we learn to understand the world, as children, is by coloring. As adults many of us still need to learn about our external sexual anatomy." —Tee Corinne.
The purpose of this book, as intended by Corinne, prompted me to share it with my colleagues.
As a secondary experiment, I simply tore off drawings from the book and laid them out on a large table in the centre of the room along with some coloured pencils and paints. I invited my colleagues to pick up any page they liked and colour a vulva.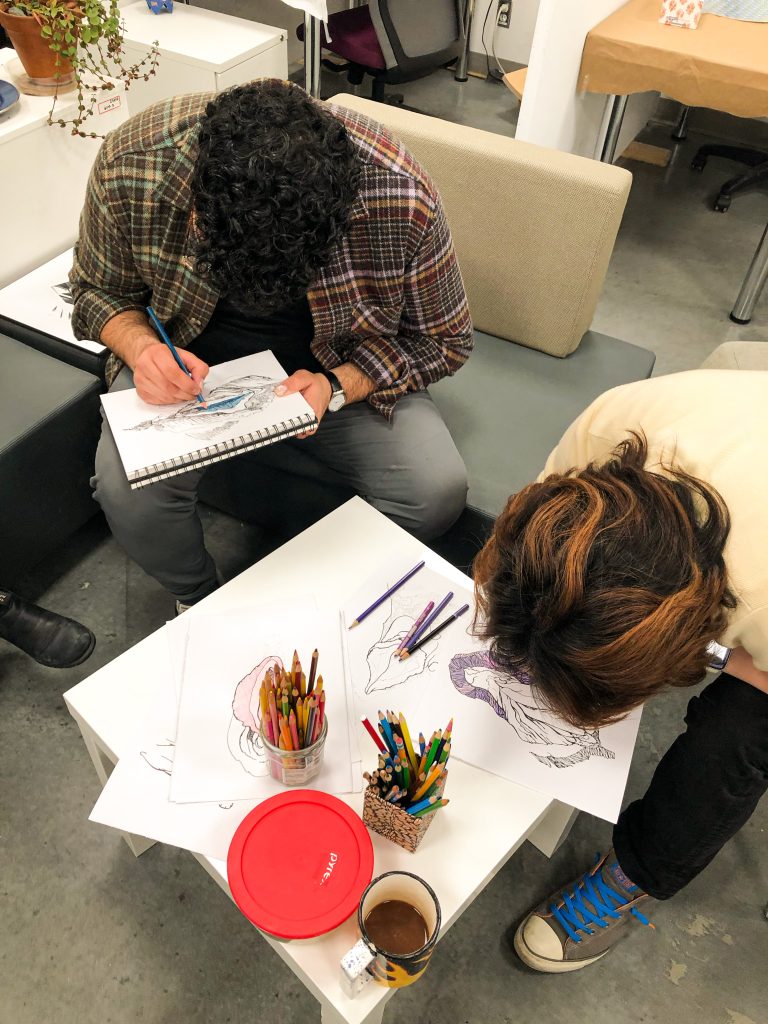 Reflection
In some ways, this is not so much a completed project as a work in progress. My next step is to decide what I will do with the artworks – perhaps bind them into a book or stitch them together into a mural. What I do hope is that this simple act of adding colour to a significant aspect of female anatomy can serve as a precedent for creative ways to improve understanding of the female body among both adults and children.