Nature Immersion | Presence | Communication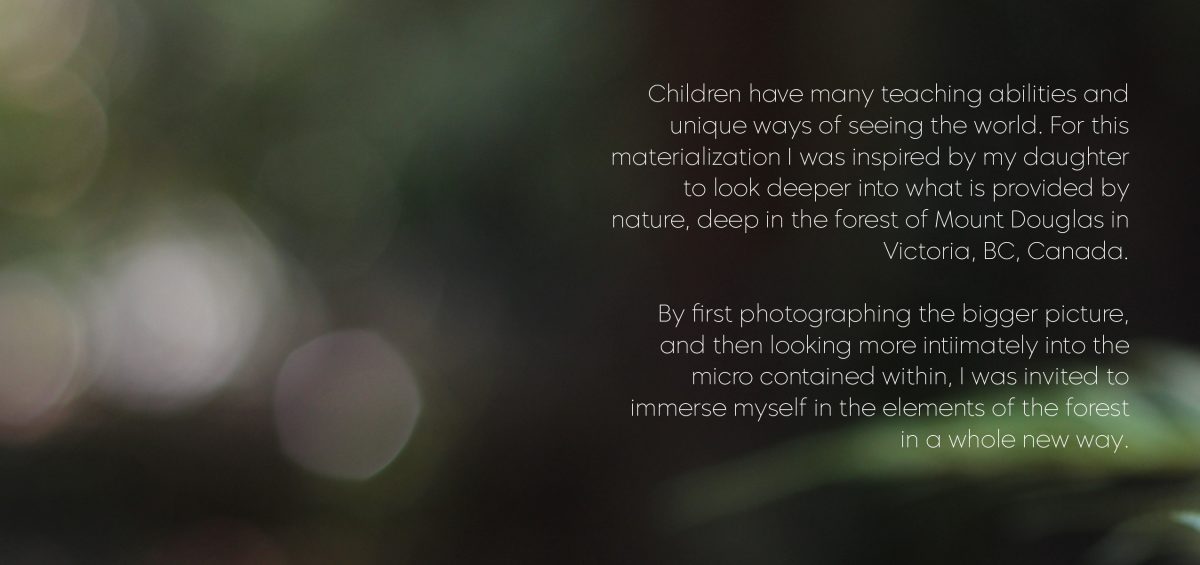 Travelling back from Sweden to Canada, in the Autumn of 2020 brought a series of constraints to my design practice, but more than anything else, it gave a heightened sense of appreciation for the beautiful forests of Western Canada.
When working on this materialization, I partnered with Chiara Schmitt, a new-found friend and designer based in Germany. I wanted to somehow share with her my experience of Canada, and though she was not physically here, I chose to share Mount Douglas, a forest area located on Vancouver Island.
If there is one thing that Covid-19 has redefined for the world, is our concept of being 'physically present'. Zoom meetings and social distancing are now well-known and well-used terms in the new-norm. Vancouver-based artist Matthew Vee states that Zoom gives people 'super powers', giving us the abilities to disappear, to connect from all corners of the world, to be muted or on centre stage at a button's click. I wanted to test this idea of being physically present with Chiara, on my first outing since my quarantine release, through a different screen than the computer. Through the lens of a camera.
As I walked the forest bed, and smelled the earthy rich scents of the forest, Chiara was 'present' with me. I wanted to show her what I was seeing in my journey and explore the macro / micro versions of seeing.
Starting from a distance, I would photograph what was in front of me, and within further inspection from close-up, also document through photography what was revealed by being closer.
Children have a way of exploring the world in this way; a inspection and a studying of the intricate details around them, and I was inspired by this teaching as I walked the forest. All the while, Chiara was a part of this walk, with me in spirit and thought although not in physical form. I was trying to capture images I wanted her to see, almost as if I was pointing them out to her with my camera. A new way of seeing, a new way of being present, and a new way of being as we enter into the changes this world is encountering.