Understanding depression, through footwear design.
The direction of this project aimed toward turning "knowledge about depression, into understanding". Consequently, creating a more comprehensible medium for awareness. An idea, that what it is like to walk in the shoes of people who experience this illness on a regular basis.
With footwear design being an area of interest hence a medium for understanding, this was more of an experimental approach to understand the problem space (depression) through the medium of existing knowledge. Another motivation was the curiosity of outcome, because of the lack of an obvious relation between these two concepts.
KNOWLEDGE
In the given time, I attempted to gain information about clinical depression through online papers and a talking with a practicing Psychiatrist. Since the objective was attempting to understand and communicate the problem, most information gathered was about symptoms and experiences of people diagnosed with the illness. The key points were:
Feeling heavy
Ruminating thought cycles
Lack of energy to do even the basic everyday tasks
Hopelessness
Inability to feel emotions/ loss of interest in activities
Stuck in past moments (regret)
Feeling like a burden to the surrounding people
Difficulty communicating the problem since others can't really "see" the problem
Inferior perception of self
An individual with depression experiences a constant struggle stepping into the world since these symptoms area present 'all the time'.
UNDERSTANDING
Although the information might still be considered a simplification to the complexity of the nature of illness, these aspects are the usual symptoms one experiences.
Next step was to translate these issues in terms of a shoe. Can a shoe be designed in a way so as to mimic these feeling/experiences? Since there wasn't an obvious connection between a shoe and clinical depression, I decided to take a metaphorical approach to problem.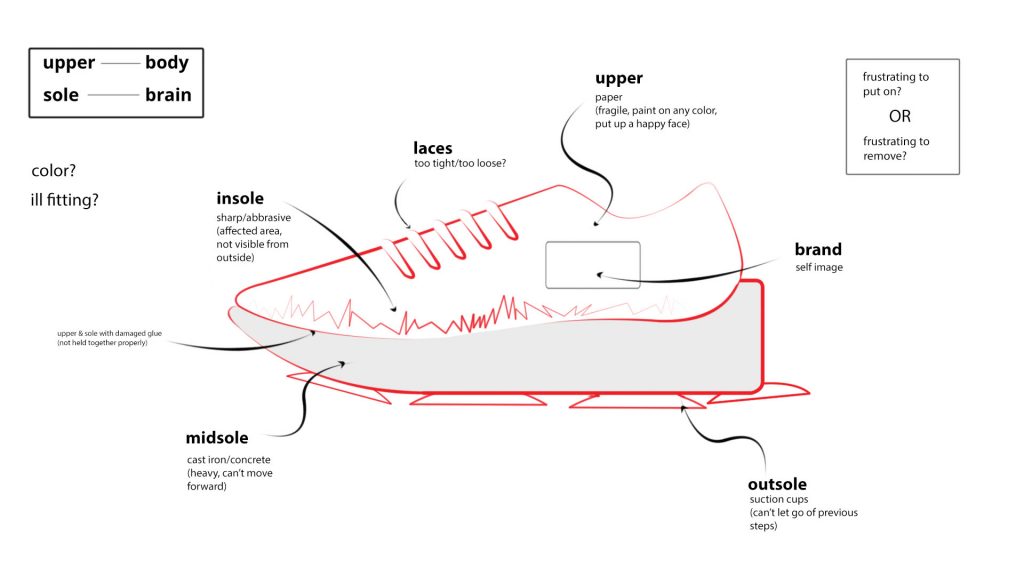 Taking the knowledge gained about depression and conveying it through elements of a shoe, these were a few possible approaches:
Feeling heavy – a mid sole made of CAST IRON
Ruminating/stuck in the past – out sole made of SUCTION CUPS
Can't see whats causing the problem – inside of the shoe made with SAND PAPER
Can't keep yourself together – upper made of PAPER
Self image – too cautious about the BRAND
A way of approaching the solution can be explained by asking that what is it that must be changed in the shoe to make it more wearable/tolerable?
E.g., in this particular shoe, to not damage the thin paper upper, probably you'll want to take off the suction cups first to at least make the shoe slightly usable. Similar to how regret (suction cups holding you back) is usually a key factor a psychotherapist might want to address while dealing with a person experiencing depression.
This is still a rather oversimplified model of explaining/understanding depression, although an initial step for me to gain some clarity on the complex subject. I would be attempting to create a physical prototype of this idea as an end product.