Hidden & Exposed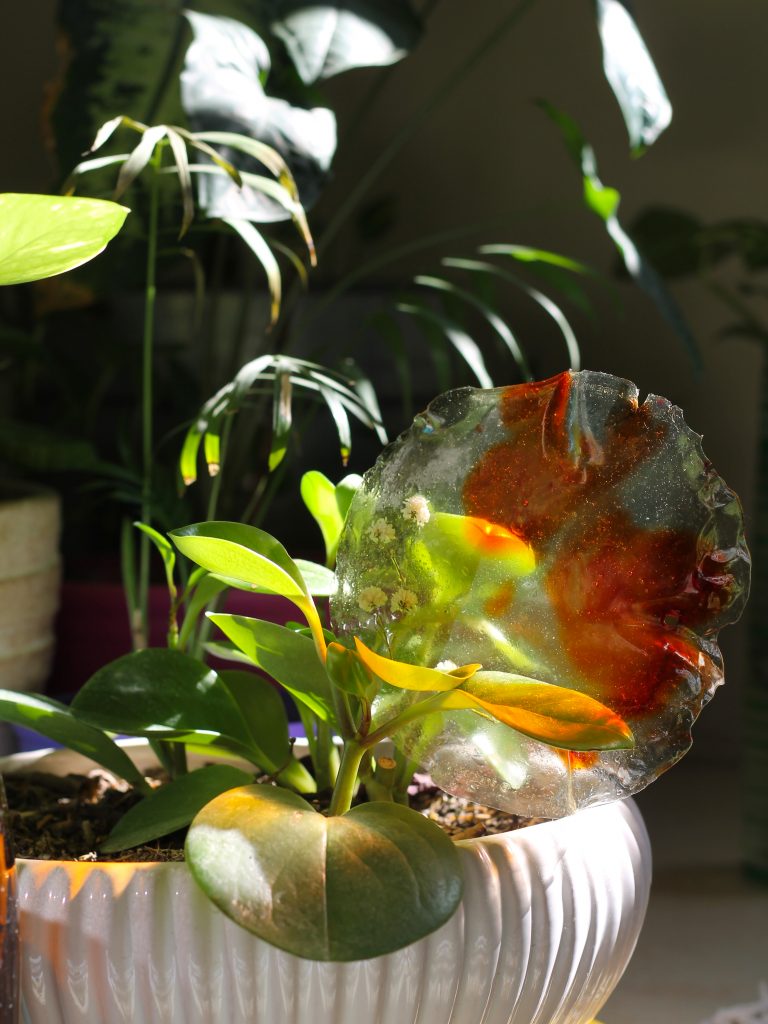 I started this action with the desire to do the things that I always wanted to do but never got a chance to try them out. It has been a long time that I have a desire to try out different natural-based materials. I got my hand on a couple of recipes to try new stuff. I sat down reading them and taking notes. There were some chemical ingredients in the recipes that I either couldn't find or were so expensive for my project. So I decided to find a counterpart for them in the stuff that I had in home, the materials that had similar functions and reactions. Some of the chemical materials of course create durability for the final materials and some are antifungal. I was in the experimental phase to see how manipulating some recipes would work.
I wanted to work with pure waste such as eggshell, sawdust, plum, and dried flowers. The temptation to work with natural materials is so strong. Like being in nature, working with natural materials gives the enjoyment of working at the moment, involving senses and emotions. During this project, I thought a lot about what is in these materials that gives them so much meaning. They are of course rooted in our genes. Or like the talk we had in the last Fibershed meeting, it is our ancestral connection to the land. I come from a farming background and spend a huge portion of my childhood in agricultural lands and gardens, playing with dust, leaves, fruits, and water. I associate lots of smells, tastes, sounds, and textures with some specific places.
1st Experiment: Transparency and Memories
For the first try, I wanted to create a transparent material. A material that allows light to pass on and be flexible as well.
Talking to Sophie I understand that aesthetic quality is as important as meaning in my works. So I thought what is more appealing than a touch of nature in this work. I wanted to preserve nature in my material, the pleasant sensation of touching flowers.
At some point, I could see how my material has the quality of being so yummy and jellylike. So thinking about this brought me back to my childhood memories, remembering the erasers with the shape and smell of fruits. Thinking about this triggered my smell memory. Seemed that I could remember the smells. Attached with these smells was a great feeling of going back to my childhood memories.
2nd & 3rd Experiments: Embracing Failure & Playing
For the second experiment, I used a mixture to crush eggshells to create a hard material. But I failed as the particles got a part and did not stay together. For future experiments, I have to add material to glue parts together. I am trying to embrace failure by adding the picture of it here.
In my 3rd experiment, I wanted to create a spongy material with wood scrap and washing liquid. The material not only turned out to be spongy but also got apart.
When I separated the material from the molds, I decided to get my hands on it and play with it. I played with the color combination and when I moved the particles I felt they are looking like a field filled with wild grass and orange flowers.
4th Experiment: Shaping Dust
Actually, for all my experiments with wood, I first went to carpentry to ask for some wood scrap. The carpentry worked with MDF and the only thing I could get was dust. So I thought that this wouldn't probably work but gave it a try to see whether I can create a composite or not and how that composite would turn out to be. I didn't really expect the composite to be this great and hard. This is actually wonderful for further development.
when photographing the composite I saw the colored wood scrap from the previous experiment and I thought of using them for photography.
5th Experiment: Diary Keeping
It has been a long time that I wanted to make papers. I thought this project would be a great place to make it happen. I started pulling out papers that I thought I would not need anymore like my notes from the last semester and the ones that I wrote my thoughts on. I started tearing them apart and added wood plum and flowers to give them a natural sensation.
The process of tearing my notes was more meaningful than I thought it would be. I came across how my thoughts have changed throughout these couple of months in the university. Along with all my university notes, I had lots of notes related to my personal life, my challenges with visas, and to-do lists for immigration. Seemed like reading a diary and visualizing what happened at that point in time. I thought f how immigration keeps pushing back to may work even the moments I decide to let go of it. Maybe I have to accept the fact that it is part of me now and it is gonna be seen in my future works and reflections.
After doing all these experiments I talked to Helene and She saw something in my project that I hadn't seen my self. Seems that I am moving between the phase of hiding and exposing. In the 1st project I had these hidden narration and here I have both hidden and exposed narrations.