Action IV | Seeing Through Time
We see our world today and we believe in its contemporary characteristics, we accept that it is the way it is and naturalize it. The objects, concepts, and ideals that surround us have not always existed this way, in many cases, they can even be very new. However, we do not habitually remind ourselves of that. As Bowker and Leigh-Star described, we must "make an effort of anthropological imagination to remind ourselves of contexts in which it is still not naturalized." (2000)
In this context of recognizing the changing nature of our world—both physical and conceptual—we can begin to recognize the choices that have been made and the choices that can be made, possibilities become more visible and the world we are in comes to be seen as a process and not a fixed reality.
With this in mind, my project for these two weeks began to take form. Utilizing old photo slides, I decided to experiment with representing the shifting baseline syndrome.
For this project, instead of going into this concept relating it completely to climate change and sustainability, I decided to explore the shifting changes in our daily lives, both in terms of the environment and of technologies we have created. The intent was to pay and call attention to how the world is not how we see it every day, it has not been like this for long.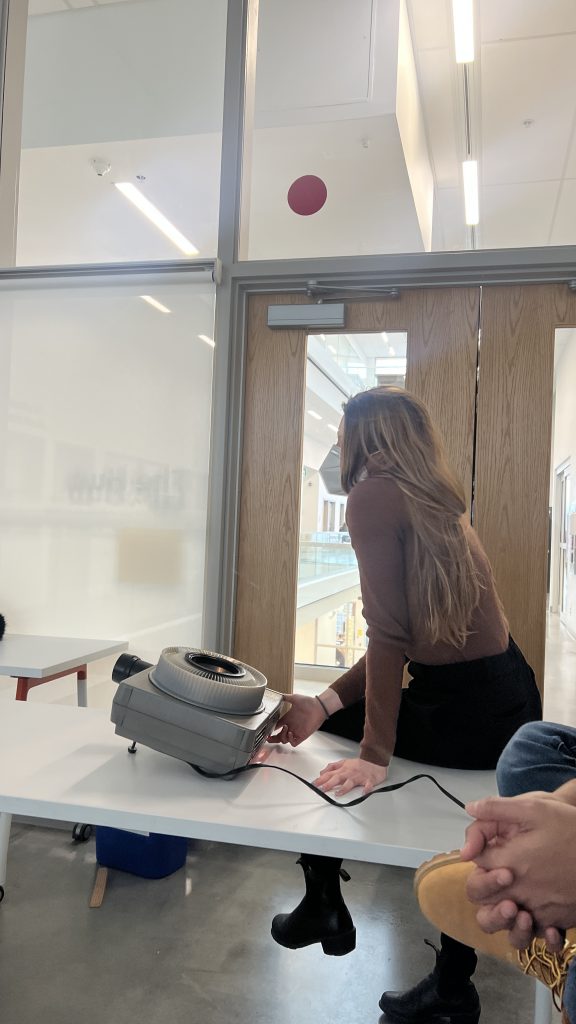 Overlaying images on the slides, I attempted to merge the time linear continuum we easily recognize. I added the present to the past, as well as the future and the past into the past.
In addition to the photo slides, I also added some sketches to a few postcards.
One of the interesting thoughts I had during this process was that I could not really take anything out of the images as I was drawing on them. I could sketch over them or hide something behind the drawings, but I could not really take anything out unless I cut it out and then nothing of the image would be there. This relates quite well to where we are now in regards to the environment, we have made so much impact and cannot pretend it is not there or try to hide it.
It was a very interesting process to go through. Personally, I had never used a slide projector before and the memory of developing images from a film camera was far in my mind. Therefore, the materials (photo slides and slide projector) were in themselves a way to represent the changes we forget within a short period of time.