A broken leg means you got to fill the day differently.
Can't move around too much.
I've gotten a lot better at hopping around on my good foot.
A skateboarding shoe provides a good surface.
Part of filling my hours differently meant getting hooked on Wordle along with the rest of the population. If you're unfamiliar with Wordle, it's an online word puzzle/riddle (a wordle, if you will), where the user attempts to guess a 5 letter word in 6 tries. This how to play should fill in the rest: 
I wouldn't say Wordle created an online community (although I'm sure there is one for the larger fans of the game), but it did create a sense of collective play. Something we all do together, for less than 5 minutes a day.
I began to do some research into how the design of Wordle has led to its explosion in popularity. The design of Wordle employs three different mechanisms to keep us coming back for more:
Shareability: The yellow, green, and grey grid you create when playing Wordle tells not only your results but also the entire story of the user's game without spoiling it. This grid of coloured squares is also incredibly easy to share on social media platforms like Twitter or Instagram. Experience playing the game, allows you to read another user's grid, allowing you to empathize with their experience (you'd be shocked to see 1 row of green squares, or 6 rows of grey/yellow ones.) These eye-catching coloured grids peppering social media also serve as a reminder to go play Wordle for those that haven't yet.
Habit Cycle: The habit cycle is the cycle of Trigger -> Habit -> Reward that allows us to reinforce habits. In the case of Wordle, the trigger can be seeing others posting their results online, or if you're a freak like me waking up is trigger enough. The habit is the playing of the game, and the reward is the rush of dopamine* we get from solving the puzzle.
Scarcity: Finally, the scarcity of Wordle keeps us hooked. Because there is only one a day, we're forced to wait at least 24 hours before we can get that hit of fun brain juice again. Which makes us want it more. Additionally, the scarcity can provide a sense of peace or safety. In the age of surveillance capitalism, it's nice to have an online experience that aims to keep you staring at it for as long as possible.
This idea of a brief, daily, collective, experience semi-bounded in town appealed to me and I decided to investigate its potential to combine with another activity increasingly on my mind: hangboarding.
Hangboarding is a type of climbing training that involves hanging by your fingertips from pockets of various depths to either promote healthy tendons or build grip strength. 
I was curious how a hangboard might be turned into a puzzle-like game in the vein of Wordle, that made use of similar psychological tricks to bring this act of collective play to the climbing community.
The controls would be simple enough, there are a number of different pockets that can be weighted for a certain amount of time, but it is important that the puzzle also be beneficial. It comes from a larger idea of integrating play, where the joy comes from using your mind, into exercises to keep your body healthy.
But what makes a healthy and productive hangboard workout? Is there a routine that could be varied upon, that is healthy to do daily, that can apply to everyone?
No
Well maybe, but I had 2 weeks and week one was spent mostly horizontal and high on painkillers.
I threw myself into hangboard design. I wanted something that was packed with functionality but was still visually different and clean. I began by looking at the features I wanted to include and questions I had about what makes a comfortable hangboard. 
Trango released an innovative new hangboard called the Rock Prodigy Forge and a paper on their process. They adopted an iterative design process, making use of CAD tools and rapid prototyping to determine specific details that would prevent injury and improve finger health. This paper became one of two I would use to drive my design.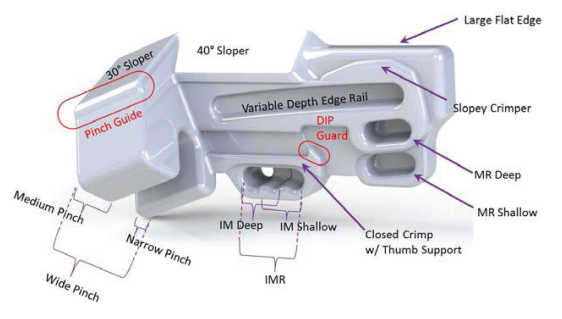 The second was released by Keith Baar and was titled Minimizing Injury and Return to Play: Lessons from Engineering Ligaments. It delved into what exercises actually help and heal ligaments. (Ligament injuries in the fingers are common in rock climbing.)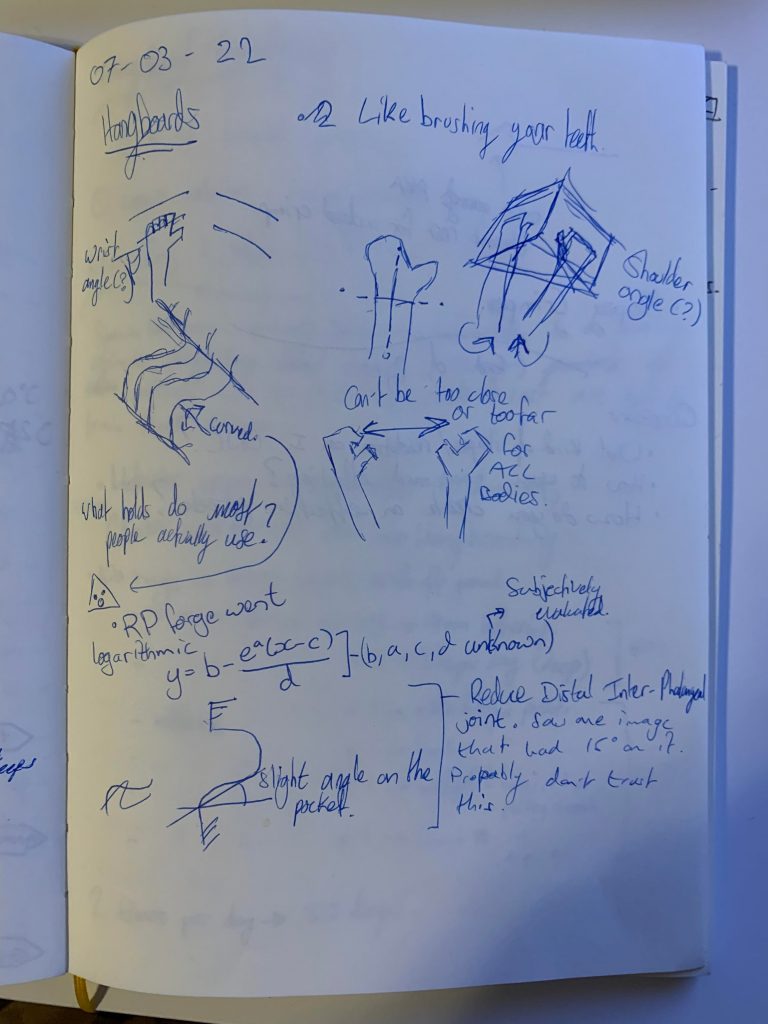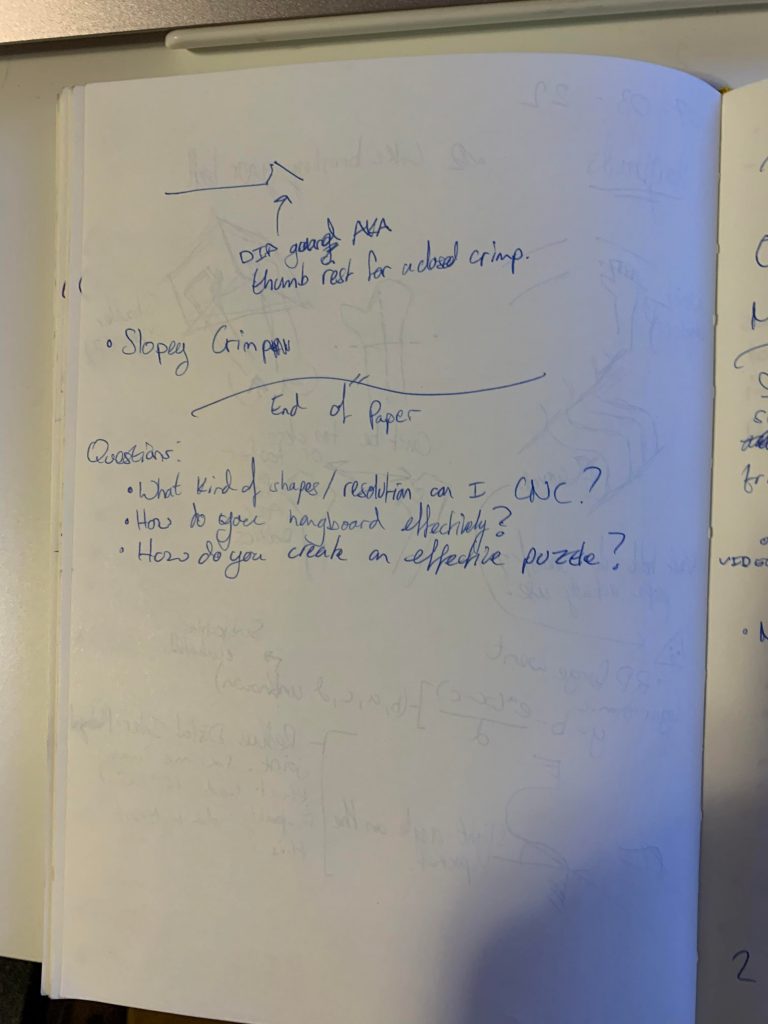 I also created a poll in the Squamish Rockclimbing facebook group to gain some perspective about what features people found most useful and open up a conversation around hangboard use.
Once I knew what features I was after I began exploring how they might be laid out to fit nicely above a doorframe (where most people hang hangboards.) I looked into the design of decorative lintels and wanted something vaguely pyramid-shaped that would cap a door nicely. The final design ended up being inspired in form by Japanese tea houses.
After some iteration on the design, I settled on the two-piece design below which offers, a deep flat bar, a deep 2 finger pocket, a mid 2 finger pocket, a mid 4 finger, a shallow 4 finger with a DIP guard (a Trango innovation to protect the Distal Inter-Phalangeal Joint), 2 sloper angles and a jug. The two-piece design means the user can adjust the space between the 2 sides to optimally fit their shoulder width.
I think I'll continue to tweak the design before getting it made. Rounding out some edges and supporting the jugs better. Additionally, I had a concept to combine the hangboard with a bookshelf. The blocks would sit on a sliding bar on either side of the books and the amount of between them would allow the user to adjust the width of the two pieces. However, I haven't quite figured out the execution yet.