MATERIAL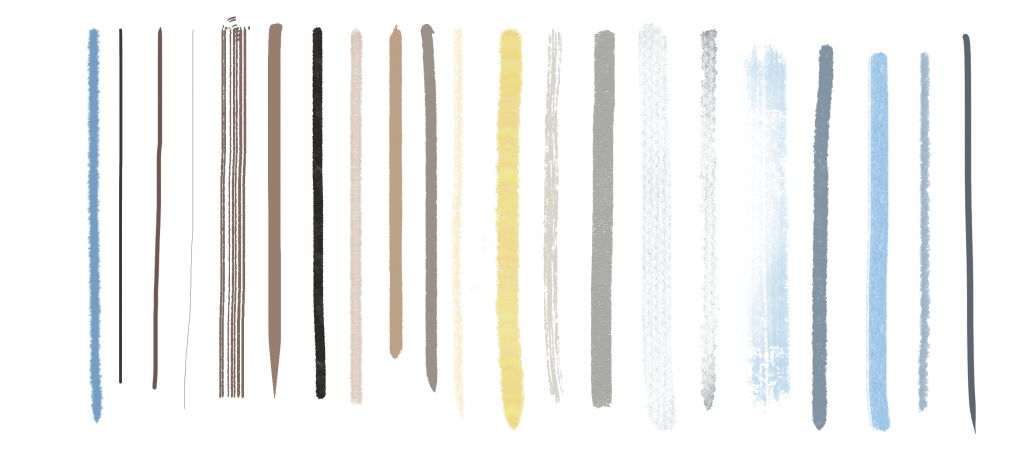 Prompt two was to establish a daily making practice relevant to my practice but something that would include working with relatively new materials. 
My drawing pads came to my mind straight away. I haven't been utilizing them at all. I do enjoy drawing and painting, so previously I thought I could easily get used to digital drawing,. However, any attempt to become proficient with drawing pads ended up in frustration. Therefore, they stayed buried in my drawers.
It was nerve-wracking for me to set a goal of learning how to draw digitally in two weeks and to create something decent in the process! But without this pressure, I feel I would have continued to avoid it.
So…, I decided to give it a try.
First Week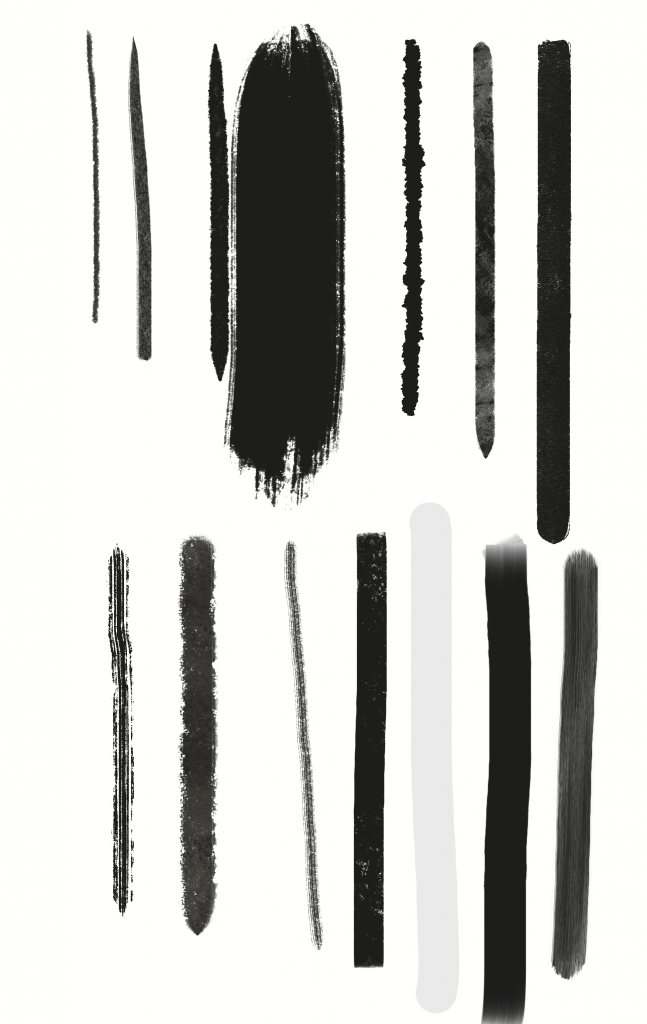 With my faculty, Cameron's, suggestion, I decided to try a drawing application called "Procreate". It seemed easy enough to start; in fact, it was much easier to use than Adobe Illustrator! While I was testing out different brushes, I was also learned to use to the left sliders to vary the size and opacity of brushes.
Second Week
Getting rid of the mediation
During my one-on-one with Cameron at the end of week one, he suggested to "get rid of the mediation". "How about drawing more like gesture drawing"? he said.
I think he wanted me to focus on the gesture more than the details of the objects that I was drawing. It made sense! I went home and contemplated objectively what my next actions should be. I needed to get rid of the mediation processes, but I always tend to focus on details. To counter my natural process and step into Carmon's suggestion, I thought that I should practice blind drawing of movements. I had never tried blind gesture drawing prior to this, but I believe this could work for me to get rid of the mediation physically and mentally.
Following this plan, I was able to focus on what is in the present moment.
My first attempt was capturing our two dogs in our backyard. I sat on the patio and watched and captured them in their movements without looking at my iPad. I found it interesting that their eyes and noses stood out afterwards.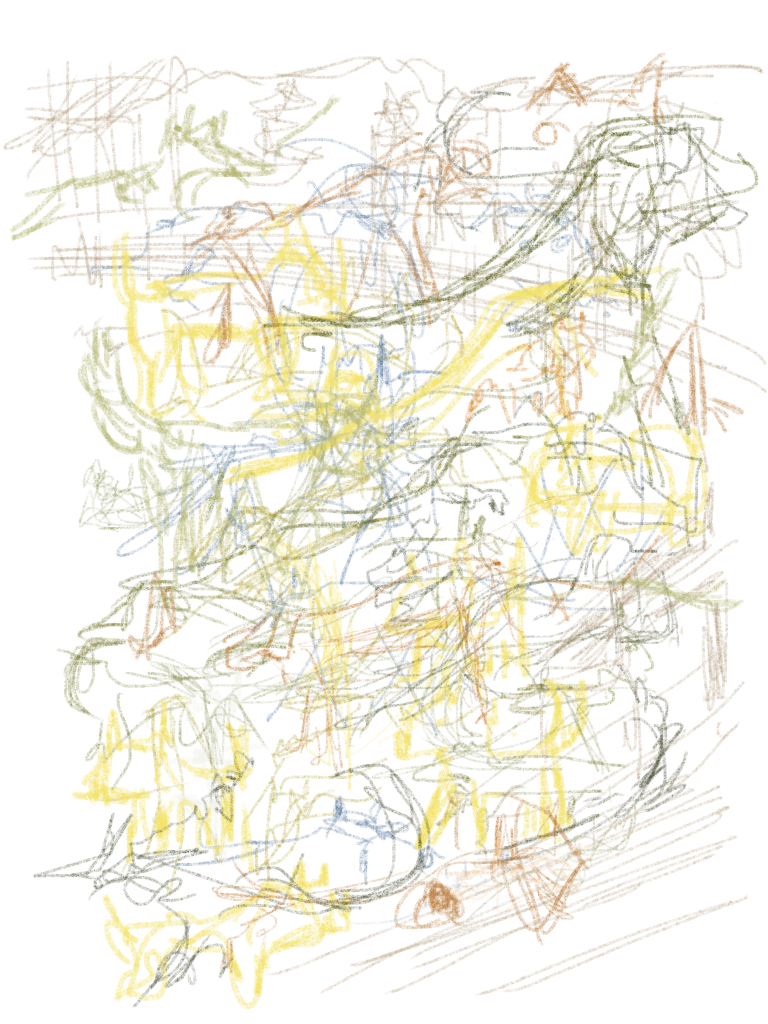 The colours were chosen from the colour theme made from the photo taken on the location.
Blind Drawing Walk
Up to this time, I stayed in one place while I drew. Then I wondered what it would be like to blind draw while I was moving. I decided to try this as I walked.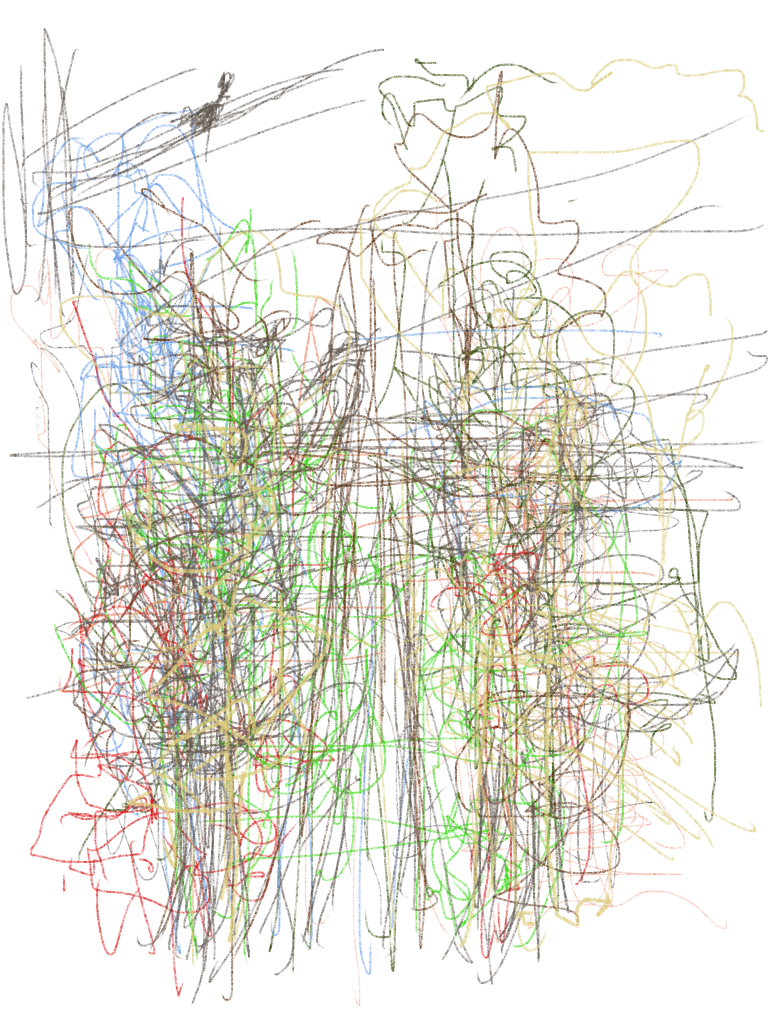 The first drawing while walking was on a sidewalk in my neighbourhood lined with trees and vegetation. Notice the crow at the top.
Walk Two is from a similar viewpoint while returning home. I changed the colours because outside was darker.
Time Lapse of Walk Two
This prompt started with a few lines and ended with lots of lines. Something spoke to me when I walked while I drew. My discovery was that I realized that present time stands upon layers of times. Time is something that we all experience without boundaries. I thought of how we all are at the top layer of time at every moment. The present becomes the past – I was feeling this in real time through layering the scenes I saw as I walked by. It is hard to explain, but it was an interesting moment to ponder while my hands moved. I also discovered that people come and go but the land, trees and non-human animals stay living the same way.  It was a new and interesting experiment to observe my environment this way.