GIFT
For the first prompt, I was paired with my new classmate, Sahil. We were assigned to get to know each other and create a gift for each other.
During a half hour video call (which felt like a five-minutes call), we were able to learn about each other by asking some questions and felt that we were able to obtain a good amount of information to create a gift.
In proceeding, I started to draw a mind map to figure out things that should be factored into the gift I was going to give him; Sahil lives in Delta with his family. His mom and grandma taught him how to cook. His dad is a big truck mechanic and has a workshop on their property. His Dad also built a studio space for Sahil.
Sahil is an alumni from Emily Carr, having graduated with a Bachelors in Design degree last year. He has been working as a freelance designer since graduation and loves photography, design, art direction, and other creative activities. He enjoys managing teams and collaborating with others.
In the future Sahil wants to teach; his next step to accomplish that goal is to become a T.A. I thought I wanted to give him something that would be useful in the near future – to help him when he becomes a T.A.
"How about a kit — a survival kit?", I thought. So, I decided to come up with a survival kit to support his T.A. activities.
I looked back on my experience as a student and attempts to teach Japanese to non-Japanese people and came up with a list of things I thought could help Sahil as a T.A.
Sanitizer, extra mask, sketchbook, stickers, stamp, mini-whiteboard, markers, sensory toy, snacks, water…
These are the materials that made it to the final list to be included in a kit; other things that I thought about but did not include were: a book (for yourself or for students), notebook, and an apron (for when you are in a workshop studio).
While I was putting this together, I thought it would be a good idea to present it as a branded care kit for T.A.'s. I have called it – the "t. a. kit"! A simple title, I know, but one that I think works well.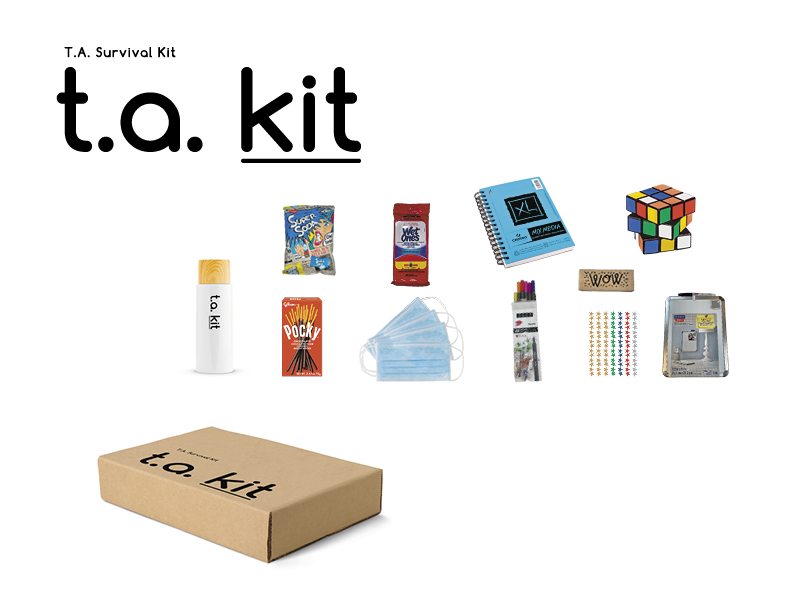 Reflection:
This prompt allowed me to learn about my new classmate in a smooth and natural way. It is always difficult to get to know a new class through usual class introductions. Also it is hard to provide extensive information about yourself to people you meet for the first time. With this prompt, it was easier to let my assigned partner know about myself (knowing my partner needed my information) and easier for me to learn about him.
It was interesting to realize that I was able to started to organize my thoughts through design thinking. All the "mundane" processes ingrained in me during my undergrad came in handy : ).