There are two main design awards I am working on this semester, and the experience of having the freedom as an independent designer is very valuable and enjoying thing to do. I really appreciate the accomplishment and support from Dimeji Onafuwa who is the course leader of GSMD 550 spring 2021.
Keywords: sustainability, community, care, ecosystem, recycle, reuse, engagement, reward system, human-centred design, design for the system, pandemic, psychological effect, nature, wild
At the beginning of the course, I'm expecting to finish several concept design projects under this pandemic situation.
Design is a way of thinking that drives innovation, to provide sustainable development solutions "human-centred design". The tasks of design are not only to serve life and business but also accompanied by artistic creation. Achieving challenges in society, the design improves people's living standards and plays a vital role. With the spirit of "design changes the future".
GoldenCrown International Design Award (referred to as GoldenCrown Award) is openly soliciting outstanding design works of international standards from professional institutions and designers around the world. The award will provide me with a great opportunity to rethink some of the design problems I am researching now, and give me time to jump out of the box. I am doing this project with one of my ECU undergraduate classmates who is learning a master's degree in sustainable practices in the UK. I primarily expect to finish the projects through CAD rendering, however, we found ourselves better communicates with physical products. I will primarily work in the critical design and product design field. GoldenCrown Awards is one of the competitions we are attending, we're also attending the biomimicry Global design challenge after handing in the first awards and researching into other design awards.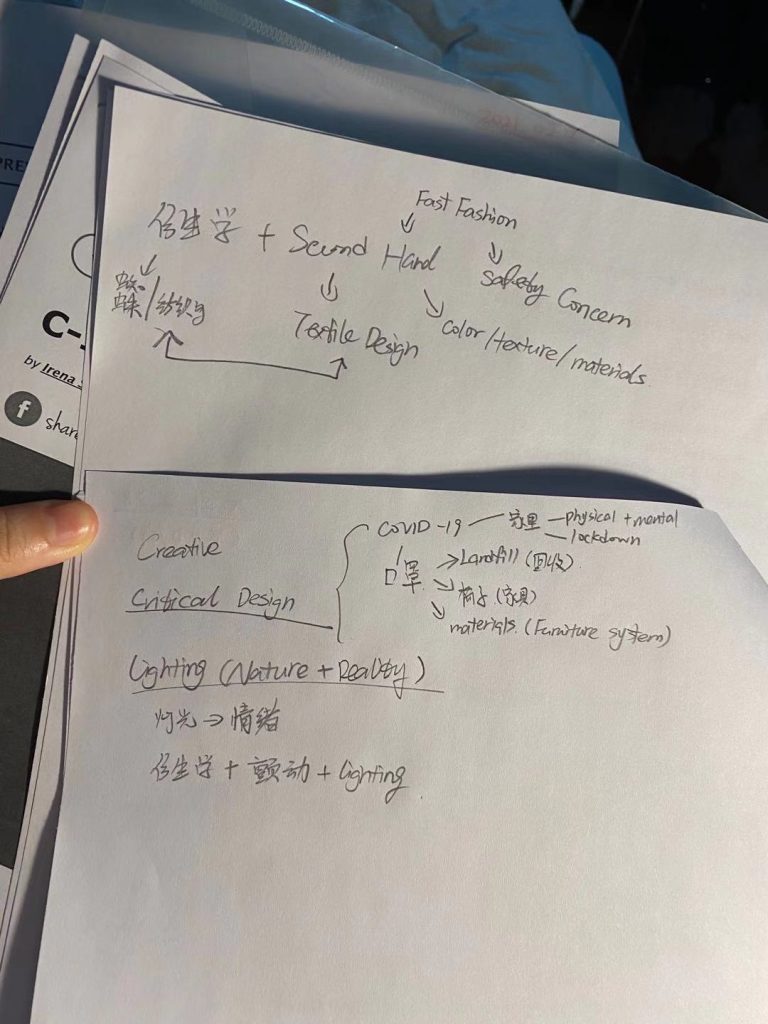 In the first few weeks, we started with discussing the core topic that we would like to further explore and having them recorded on paper so we can do research separately and gather the information for the next meeting.
Basically, we have set two main directions: one is about the disposable problems we are having under the COVID-19 situation, and the other would be how lighting system and home design can help affect people's emotions (this topic is retrieved from my core study reflections and this could not be my research direction for my master degree so I decided to keep the ideas for the competition and I can make it real in this course).
Phase I
We observed this situation of the increasing number of disposible masks being thrown everywhere, especially in the water, and it would take over 400 years for the nature to recycle it. There are over 15,000,000,000 masks has been thrown into the ocean.
https://moment.rednet.cn/pc/content/2021/01/16/8898244.html
Medical masks will not disappear anytime soon. This protective mask may take hundreds of years to decompose in nature, release them into nature can cause harm to wildlife. said Ashley Fruno from PETA Animal Rights.
https://mp.weixin.qq.com/s/PITxmesCan19jba_Th7HXg
In this more than a year since the pandemic starts, apart from the ever-increasing number of infections, this war without gunpowder is far from over. What is more worrying is the butterfly effect brought about by the epidemic. For example, masks that are thrown away are causing a large number of wild animals to die.
I was considering the design problems all the time, and one day I was dreaming of a furniture design project that recycles the masks and convert to a couch, I immediately record it and start researching when I woke up. There's one example that has been made out one step earlier than my dream: is called couch-19 designed by an Italian designer Tobia Zambotti.
Precedent Research:
We started looking into some precedents design that tending to solve the problem of overusing disposible masks.
Zambotti recruited volunteers through Facebook📱 to safely collect masks discarded on the street and save the masks they use every day to give them new uses.
.
Although the new coronavirus particles can only survive on the mask for about 7 days, Zambotti kept them in a sealed plastic bag for a month to ensure that no danger was left behind. They also disinfect with ozone spray, which has been shown to inactivate viruses similar to Covid-19.
.
These masks are compressed into four modular units, covered with PVC, which can be combined into a series of seats from ordinary sofas to recliners.
.
Zambotti explained: "The material must be strong, transparent and 'cold'. If the plastic is recyclable♻️, then it is innocent, and the clear crystal PVC I chose is 100% recyclable."
South Korean designer Haneul Kim collected thousands of disposable masks from his university campus and recycled them into stackable stools. Due to the coronavirus pandemic, many countries around the world require people to wear masks in public places. According to data from the United Nations Conference on Trade and Development, in 2020, global sales of disposable masks will reach 166 billion U.S. dollars. This is more than 200 times that of the previous year, and the previous year's sales were only US$800 million.
.
During the coronavirus pandemic, there are 129 billion disposable masks used every month around the world. The United Nations estimates that as many as 75% of the masks are eventually buried in landfills or appear in our waterways. PPE has been found in 30% of beaches in the UK.
.
Haneul Kim's project is called Stack and Stack ("Jenga") and aims to show how to prevent disposable masks from being transferred to landfills and the ocean.
.
This Guiyuan University student said: "In the beginning, I collected disposable masks that my friends and I had used, but the amount collected in this way was limited. So I installed a mask collection box on the campus. And empty it regularly."
.
After quarantining these masks for several days, Kim stacked the masks in a mold and melted them one by one using a hot air gun. Gradually, these materials constitute a solid seat design. Each stool leg requires about 250 masks, and the stool surface requires another 750 masks, and each stool uses about 1,500 masks😷.
.
The final product does not require glue or resin to fix and is completely made of recycled personal protective equipment (PPE) ♻️ without adding any other materials. The white, blue, and pink marbling patterns on the seats are not derived from the added dyes or paints, but from the original colours of the masks.
We've experienced a topic shift in the process, about the sharing communication between couples. But eventually, we decided to continue exploring the idea of the mask.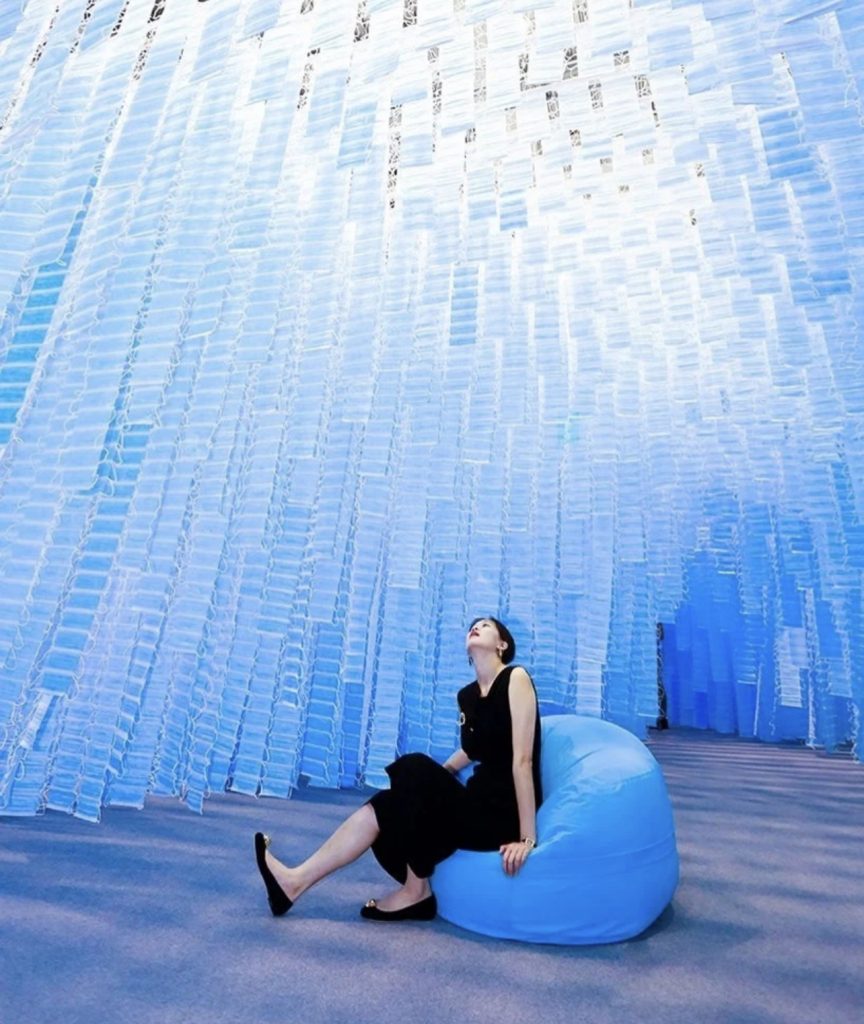 There is a special isolated lounge in the 9th Suzhou Cultural and Creative Design Industry Trade Fair. This art installation named "face to face" comes from the architectural design studio CAS. The "building materials" in the entire lounge are made of 117,539 pieces. The 80 "wall curtains" made up of masks create gaps that allow people to walk through them.
When being in a covered space "built" entirely by masks, also makes people have different perspectives and thinking about the crisis and themselves.
Secondary Research:
As I'm having a dog at home, and the frequency of taking a walk outside has been reduced. She got much energy awaits to spend, so I'm thinking if there's an opportunity can help dogs release their energy at home. I contact my partner and discussed it. So we have the to-do list ready for the next phase.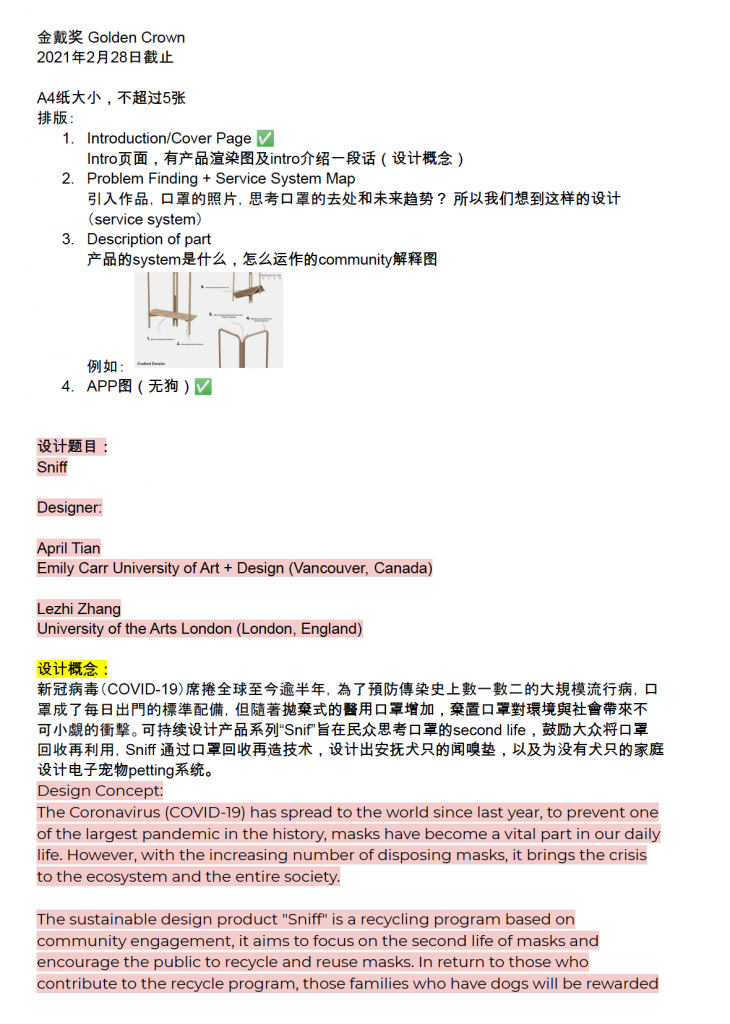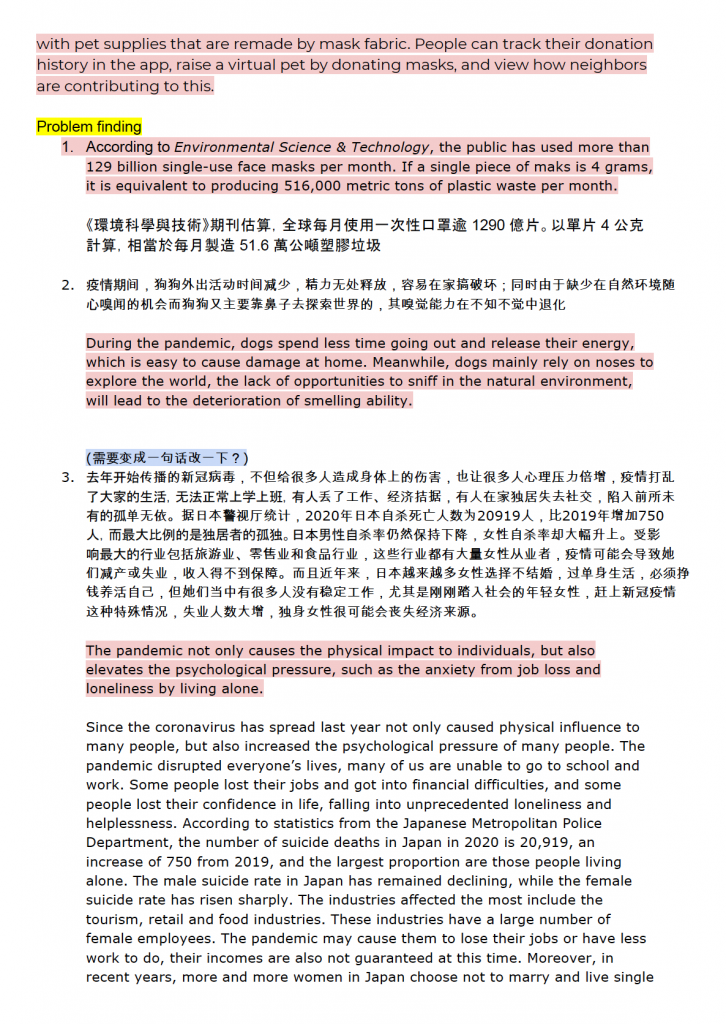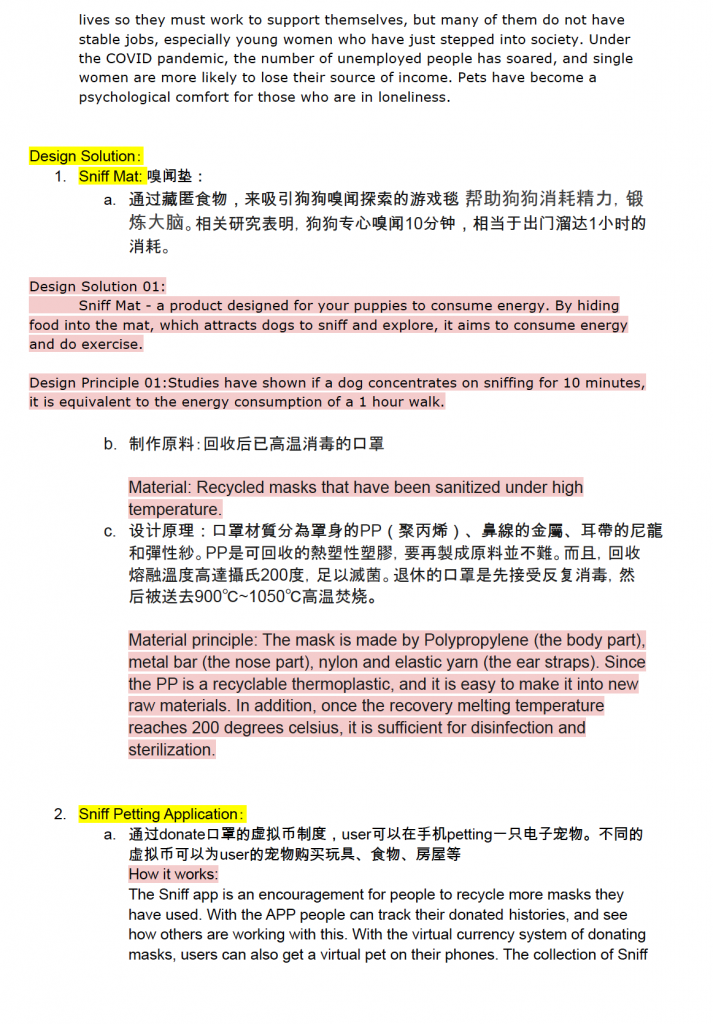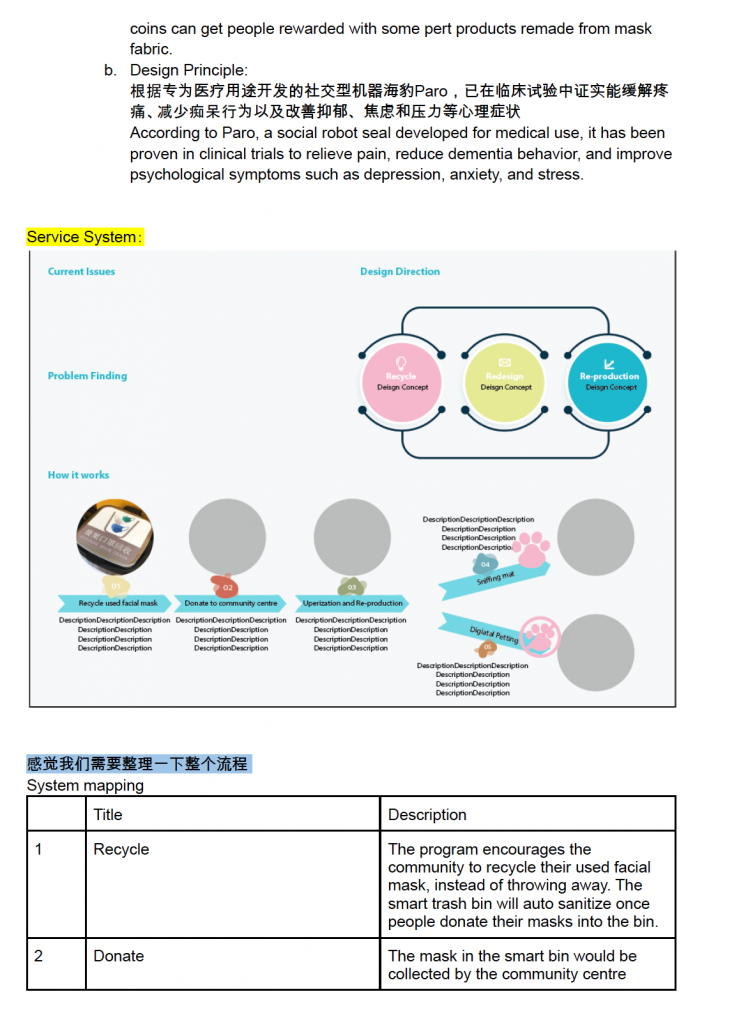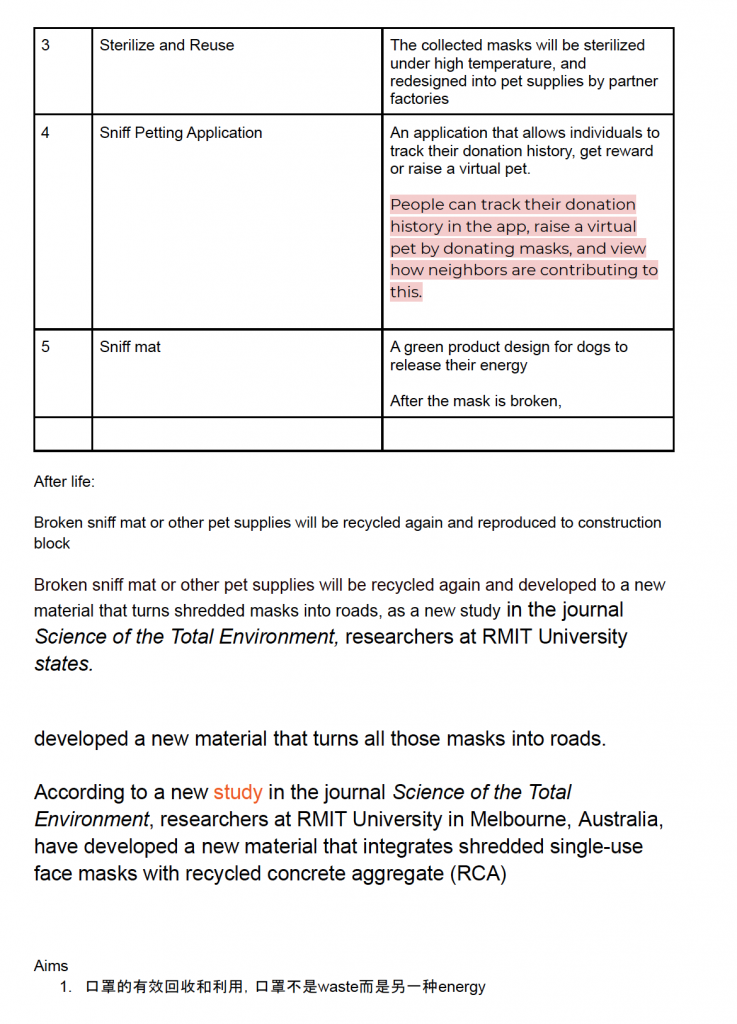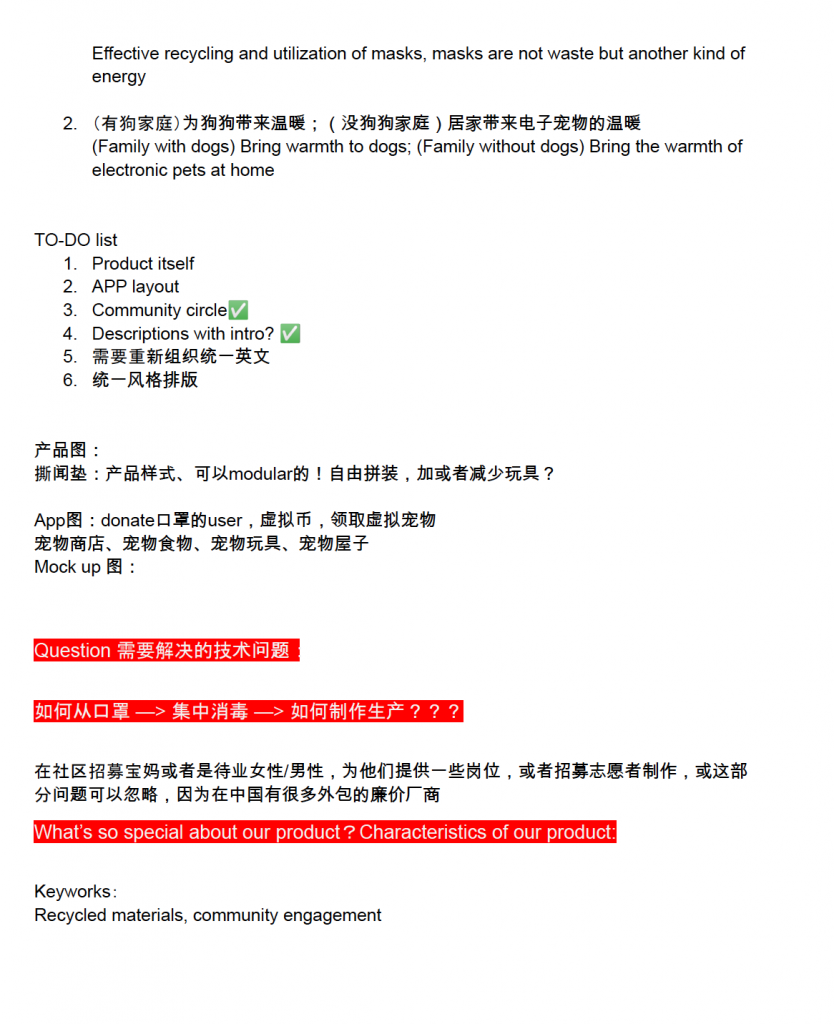 Some mockup drafts to guide the next phase of design.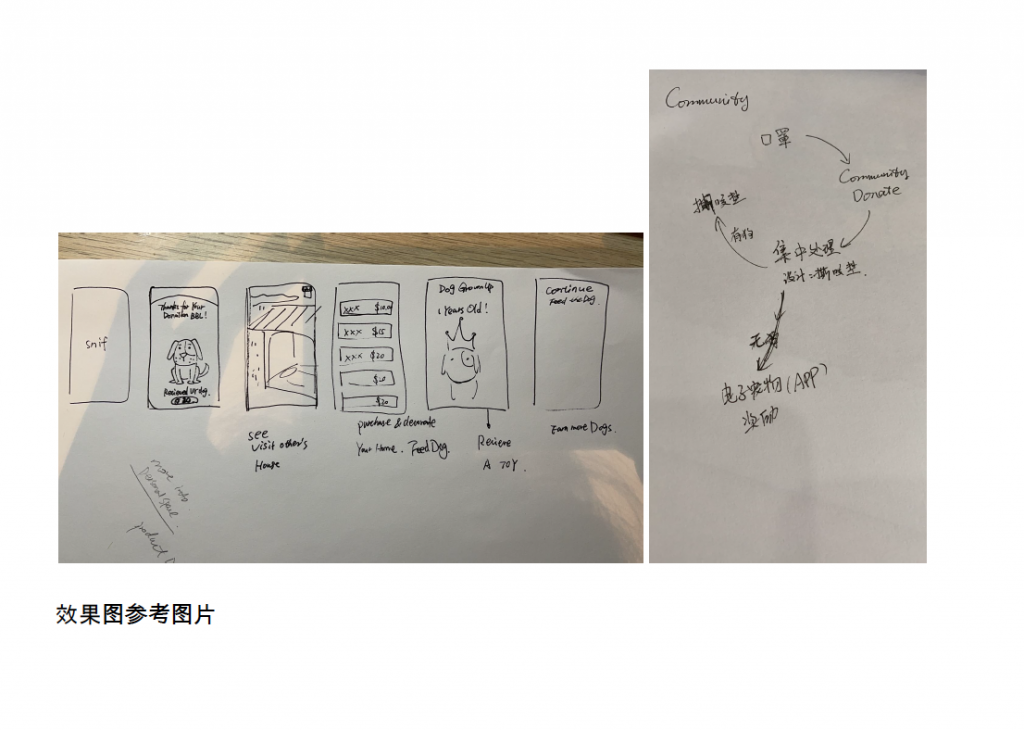 I started collecting the used masks at my home, sanitized them and seperates them by materials.
I actually used the part user tested on my dog, she likes it, and it actually consumes her energy. The result turns in a good way.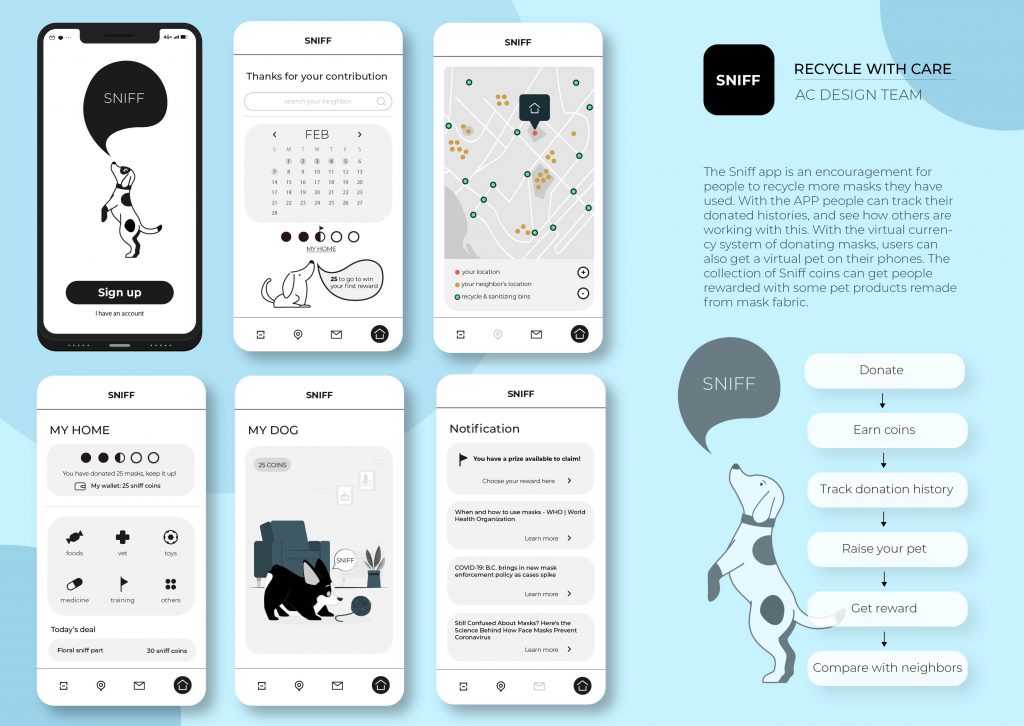 There was a hard time while we were trying to figuring out the afterlife of the masks that have been recycled for a second time. I was thinking if those masks can be compressed into building bricks, but this idea is hard to be approved, so we research some precedent ideas about the afterlife of recycled masks. One of the great insights would be to turn them into the road-making cycles.