Prompt 1: Gift
Gifting A Sense of Home
As someone who has moved around a lot, a sense of home became quite significant to my physical and mental well-being. So when I move somewhere new, I always try to take a few things with me that will make me feel grounded.
I met Aamir for the first time when I went on a campus tour before the semester started. I remember him telling me he is still looking for a place, and he almost got scammed once from organizing house viewings. After getting matched as a pair for this prompt, I got to know him more in-depth, but I could not stop thinking that he is still looking for a place to call home. I understand how it could add another layer of stress to your day-to-day life, especially when you are also in a new country for the first time.
To me, home is where you can unwind, rest, and recharge. Home is where your day starts and ends, and you come back whenever you need to. Home is your sanctuary. I started brainstorming about the types of gifts that could give him a sense of home, also as a housewarming gift.
During the prompt, I went to Burnaby mountain for a hike with some of my housemates. We were looking for a washroom, so we had to get off the track for a bit.
And I saw this quote, "You are exactly where you should be." written on the path. I know it is one of those cliche quotes everyone must have seen somewhere, including myself, but this sentence resonated with me during the whole hike.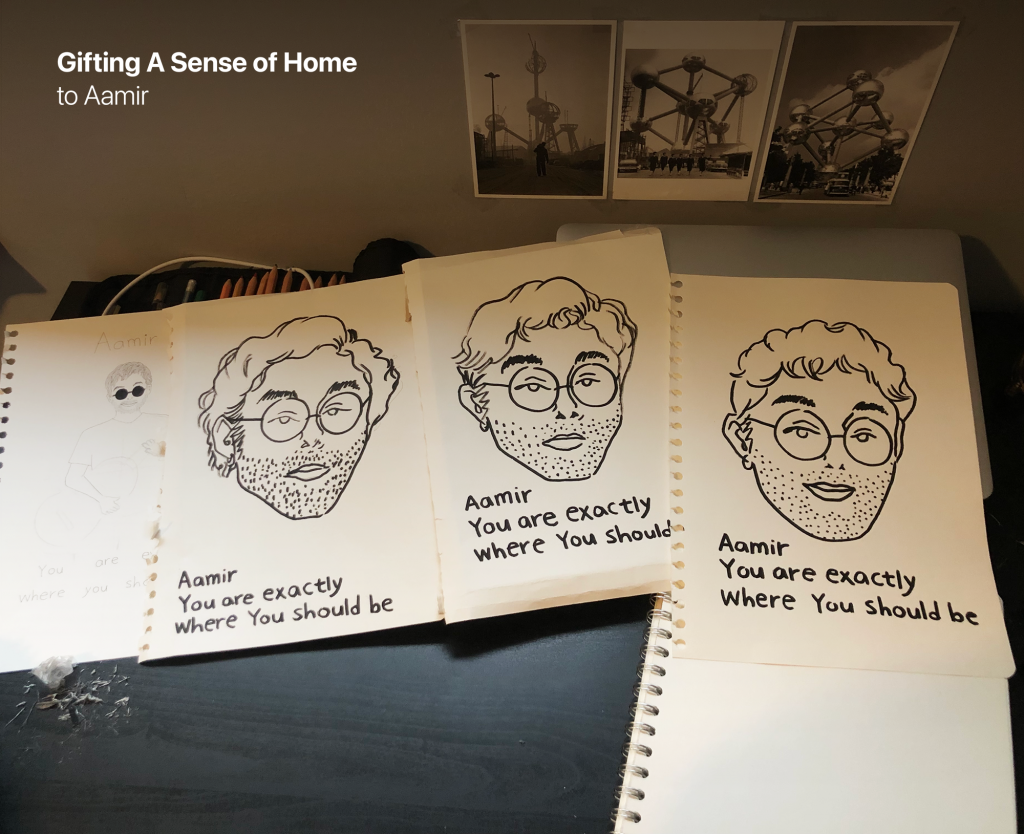 On the same day, I came home and decided to draw Aamir's face, write the quote at the bottom, and frame it as a gift. However, since I have met Aamir recently, I struggled a little to get the image I wanted to capture from his face.
While I was thinking and making this gift, I realized how important it is to have someone going through a similar situation. I am still experiencing some significant life changes like every other new international student here. From this prompt, I learned to remind myself and others that we are exactly where we are meant to be!