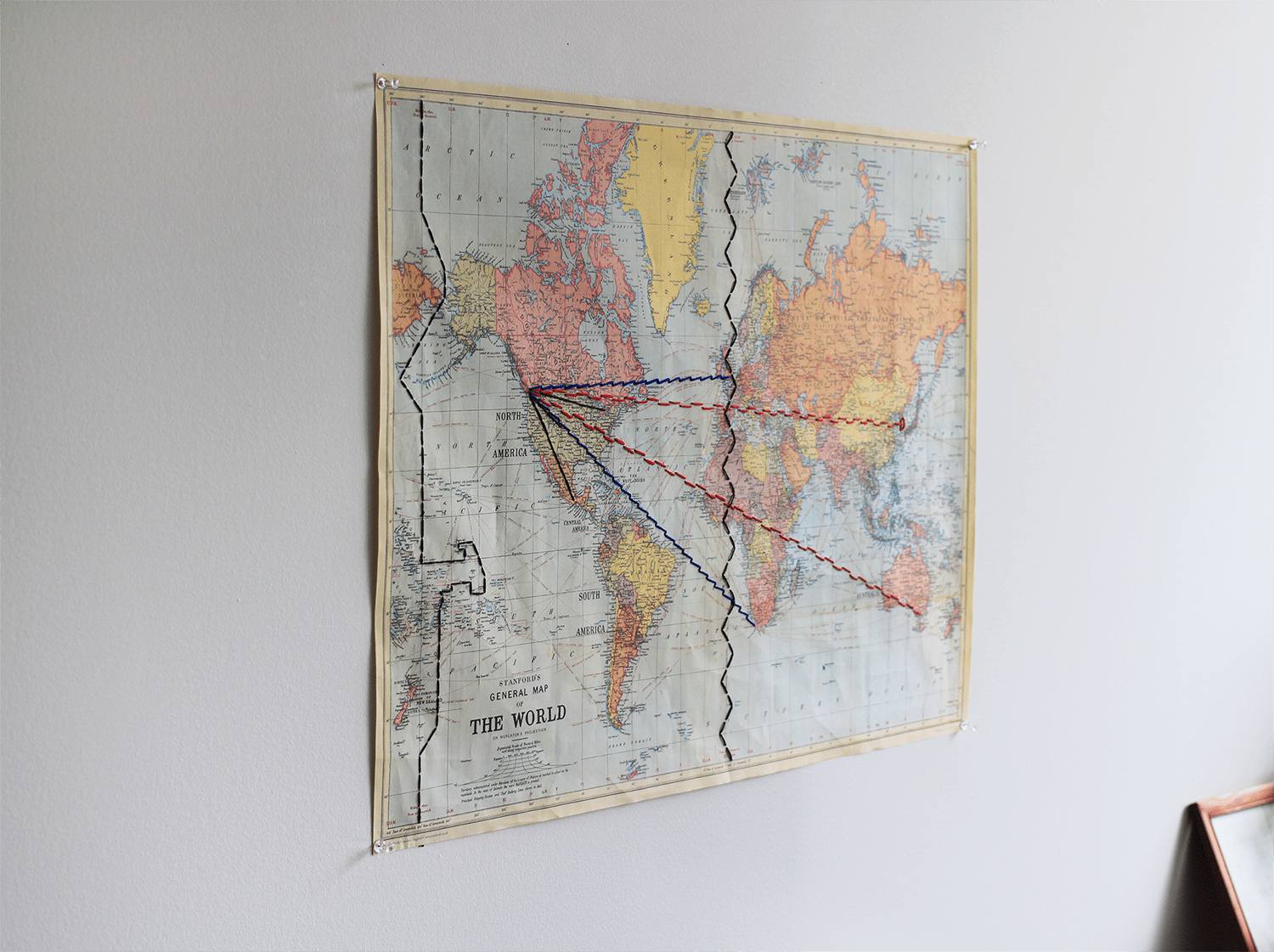 I struggle with finding the time to talk to my friends and family in Korea due to the time difference. I didn't think much about how strange it is to have 16-17 hours difference between Korea and Vancouver when it only took 10 hours on a direct flight to get here. I don't love being on my phone either, so sometimes it makes me feel like I'm not doing enough to maintain the relationships. But the real problem is the tiniest window of time I have that I can reach out to my friends and family; I have to be at home, not busy working, and it has to be the same for my friends and family. Besides, my friends are all over the world. (Mainly in Korea, but also in Australia, the UK, Germany, Mexico, Belgium, Berlin and even South Africa) There was an uncomfortable feeling rising about all these mathematic time differences. There was something about GMT that I needed to investigate myself.
The history of GMT
"In the second half of the nineteenth century, the world was rapidly becoming more interconnected. Markets for goods, capital, and labor; migration, imperialism, and colonialism; and internationalist movements reaching beyond the nation-state were different dimensions of globalization. A new infrastructure of railways, steamships, and telegraphs underpinned these cross-border movements." Whose Time Is It? The Pluralization of Time and the Global Condition, 1870s—1940s (Ogle, 2013, p. 1380)
"Many people wished also to achieve a national time (in practice as well as in law), and even a world time. After the time-zone recommendations made by the Canadian engineer Sir Sandford Fleming were accepted by the Prime Meridian Conference of 1884 (along with Greenwich as the zero meridian), railway companies around the world began to move in the direction of coordinating their timetables with the new time zones in mind." Clock Synchrony, Time Distribution and Electrical Timekeeping in Britain 1880-1925 (Gay, 2003, p. 126)
Why Britain is the Center of the World (YouTube video by an American filmmaker, journalist and YouTuber Johnny Harris)
According to the brief research around GMT, there was a need rising to synchronize, standardize and unify time globally by the late 1800s, in order to communicate information around railways and telegraphs.
Chester Arthur, US president at that time, held the International Meridian Conference in Washington with 41 nations who were in diplomatic relations with America "for the purpose of fixing upon a meridian proper to be employed as a common zero of longitude and standard of time-reckoning throughout the globe," (International Conference Held at Washington for the Purpose of Fixing a Prime Meridian and a Universal Day, 1884)
After 20 days of discussing and voting on where should be the centre of the meridian passing, the Loyal Observatory in London, located in a little outskirts town called Greenwich, became the initial meridian for longitude and a way to measure and calculate clock time in a unified form. Just like this, the country with the most powerful navy force and exploration knowledge officially became the centre of the world.
It is almost impossible to imagine how else to think and experience time outside the globally unified time structure decided in Washington D.C. 137 years ago. This meridian line is the artificial result of imperial, colonial, political and economic activities by powerful nations. It still governs the timezone, the longitude and the map, and the perspective of the entire world. To visualize this unknown story of GMT, I started cross-stitching a zig-zag line along the meridian line.
Visualizing time differences
Once I finished stitching the zig-zag line, I began materializing the time difference information between me, my friends and my family.
For the ones that have more than 12 hours difference between Vancouver, such as Korea and Australia, I stitched alternate straight lines with red thread.
I stitched stretched zig-zag lines with blue thread for my friends in Europe and South Africa, which have an average of 8-9 hours difference. The least complicated straight green lines show the range of places which have a 1-3 hours time difference from Vancouver.
After slowly processing and visualizing the time difference data, the idea of GMT became more explicit in my head. Cold, logical, intellectual way of seeing the world and its time got exposed through the stitched lines on the map.
International dateline
The International Date Line, Explained (YouTube video by an American filmmaker, journalist and YouTuber Johnny Harris)
International dateline has another unexpected story plot in the time synchronization history. This 180° line that determines whether each nation will be 12 hours ahead of GMT or 12 hours behind has been changing over the years based on colonization and trading relations.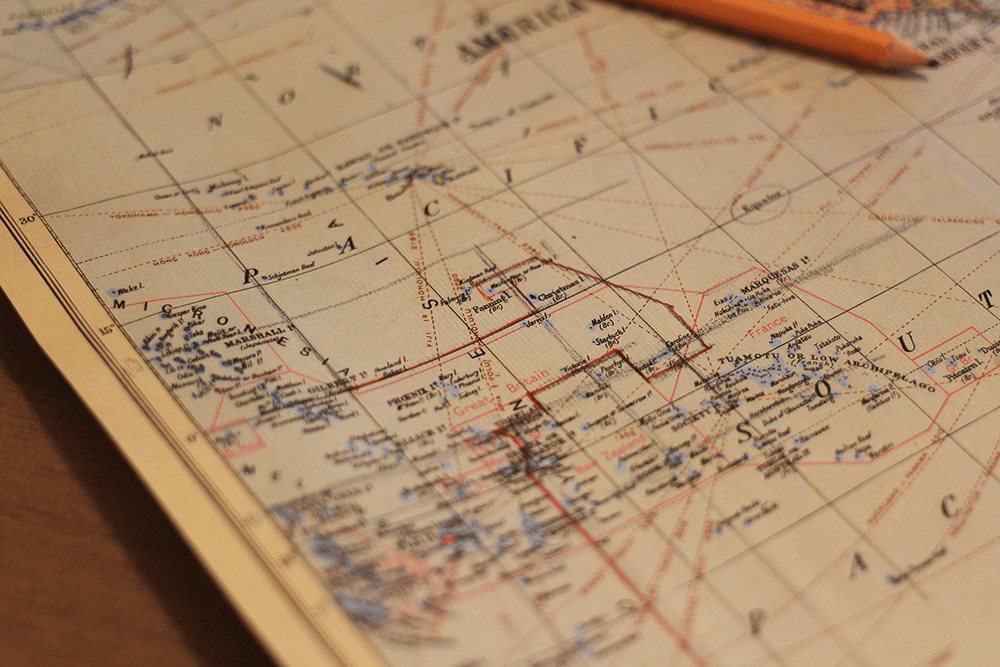 For example, if you look at the islands between the top of the international dateline, they are geographically not that far from each other. But because some of them belong to Russia, they will be in the Russian timezone which is 12 hours ahead of the British timezone. But islands that are in American territory will be aligned with the American timezone, which is 12 hours behind Greenwich loyal observatory.
The international line gets more complicated with numerous pacific islands around New Zealand and Australia; Over the years, each nation developed a different economic dependency and relations with other regional countries. So this artificial international dateline has been changing little by little and sometimes the line is shown differently depending on which map you look at.
Ever since I started thinking about what design can do at Emily Carr, this quote I read somewhere when learning about early feminism movements got stuck in my head; The personal is political. My personal struggles and curiosity about "why is it so difficult to find a window of time to talk to my friends and family?" led me to this tangled, unknown, but important historical shapes of our relationship with time.
How are we shaping our personal decisions in our lives every day? Are they based on your personal preference and values as an individual? If not, why? What are the root cause and invisible forces driving this world's unsustainability? If I all agree to slow down, what conversations have to start happening?