After gaining so much knowledge about the lunisolar calendar and seasonal customs, I was motivated to find my way to experience different perceptions of time in an urban environment. So I decided to write a time journal for a week to investigate my relationship with time.
How many times do I check the time during one day? When do I check the time, and why do I do so? And how does that make me feel?
I covered little corners of the screens on my laptop and my phone to bring this unconscious habit of checking the time to the conscious level. I knew it was going to be a challenging experiment since I'm in the middle of my semester and under a lot of obligations of attending classes and deliverables for my work. But at the same time, I was equally excited to see what I'll come out of it and what this activity will teach me.
My week long time journal
On the first day of the investigation, I felt pretty lifted. Being conscious about checking the time naturally made me check the time less often, and consciously deciding not to check the time made me feel somehow I have more time in my hand.
I realized how much pressure I was under from the notion of time, and following urge to be productive and efficient all the time. After starting my masters, I've always felt like I need to micromanage my time and minimize any chance to "waste" time even when I don't have anything to do urgently. As a result, I was constantly thinking about what I should be doing instead of what I wanted to do and be present with the moment.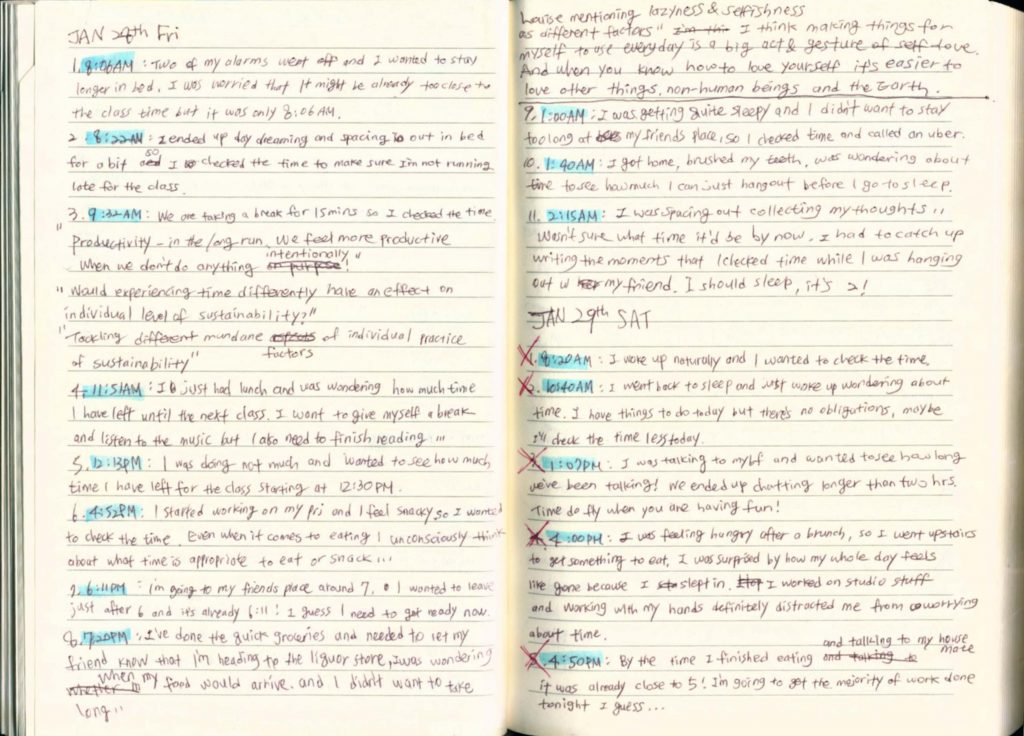 After a couple of days into this experiment, I noticed how difficult it is to avoid looking at the time wherever I go. Microwave, oven, and screens at subway stations kept showing me what time it was. I was planning my everyday commute perfectly, so I didn't "waste" my time on the street waiting for my bus and my train. When I felt hungry, I wanted to check the time to see whether it was an appropriate time to eat. When I went to bed, I checked the time to know whether I could sleep 6~8 hours which I heard as a proper amount of sleep. From the moment I woke up until I went to sleep, my whole day was structured by time, and I couldn't separate myself from it.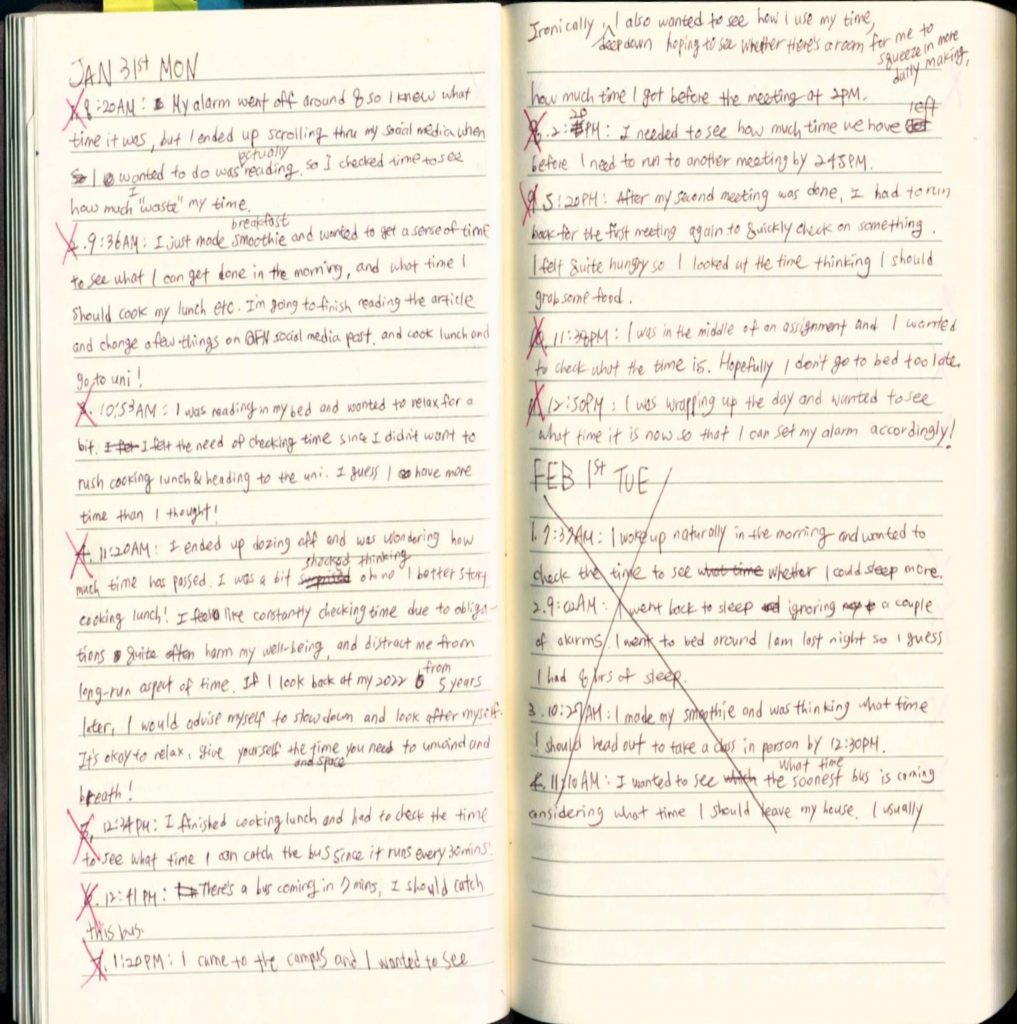 Ironically, I also realized I was expecting to see how I use my limited time every day from this investigation to see whether there is any room to squeeze in more daily making practice for low-impact living.
Constantly feeling like I need to be productive made me consider what productivity means to me. Wouldn't we be more "productive" when we don't always think about productivity? And be more intentional about doing what we are doing and slow down the process?
Cross stitching to mark and visualize the time journal data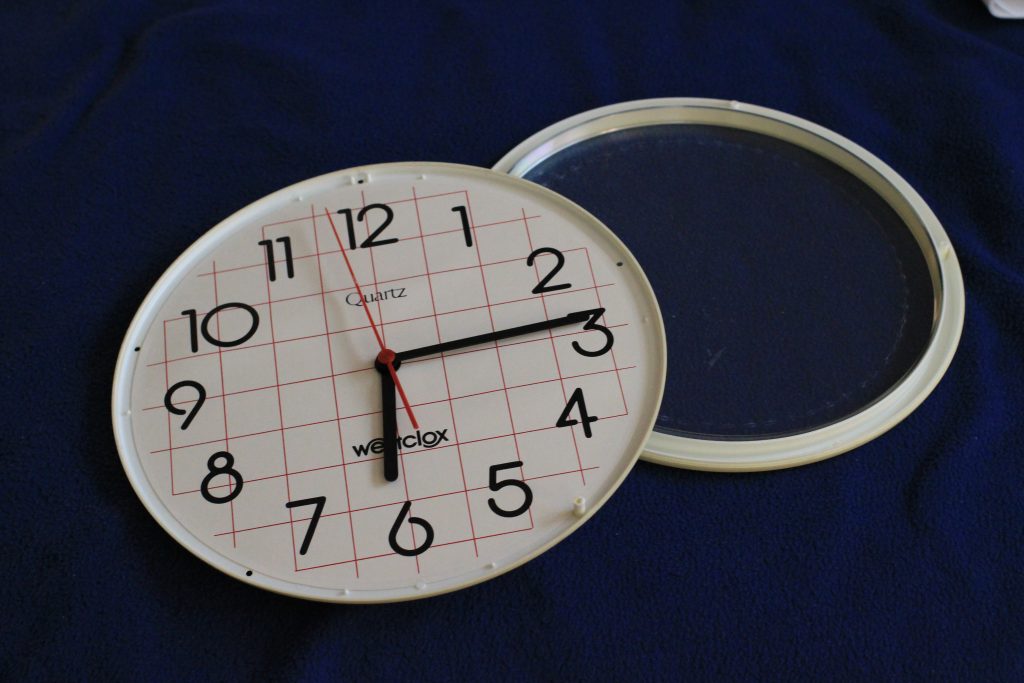 After documenting my relationship with time, I wanted to visualize the data I collected. Without knowing why I remembered I used to cross stitch a lot with my mom when I was young. I wanted to transfer the data and visualize it on a cross stitch fabric and place it on a second hand clock. So I went to Value Village (one of my favourite places in Canada now) and found this clock that seemed easy to disassemble.
I bought 7 different colours of threads to mark each day separately. I chose colours based on the traditional Korean colour spectrum, known as 오방색 Obangsaek (means five-orientation-colour). Obangsaek is the colour scheme of the five colours of white, black, blue, yellow and red. In Korean traditional arts and traditional textile patterns, the colours of Obangsaek represent five cardinal directions. Obangsaek theory is a combination of Five Elements and Five Colours theory and originated in China.
Blue: East, wood
Red: South, fire
Yellow: Centre, Earth
White: West, metal
Black: North, water
I started stitching on the fabric to mark the number of times that I checked the time each day. Each stitch is aligned with ordinary clock time divisions to show how many times I checked the time within each hour. (If I checked the time at 11:30 am, 11 pm I'd stitch twice on 11 clock line.)
I started my time journal on Wednesday so I began stitching with the red colour thread from the centre of the clock, blue for Thursday, yellow for Friday, and so on.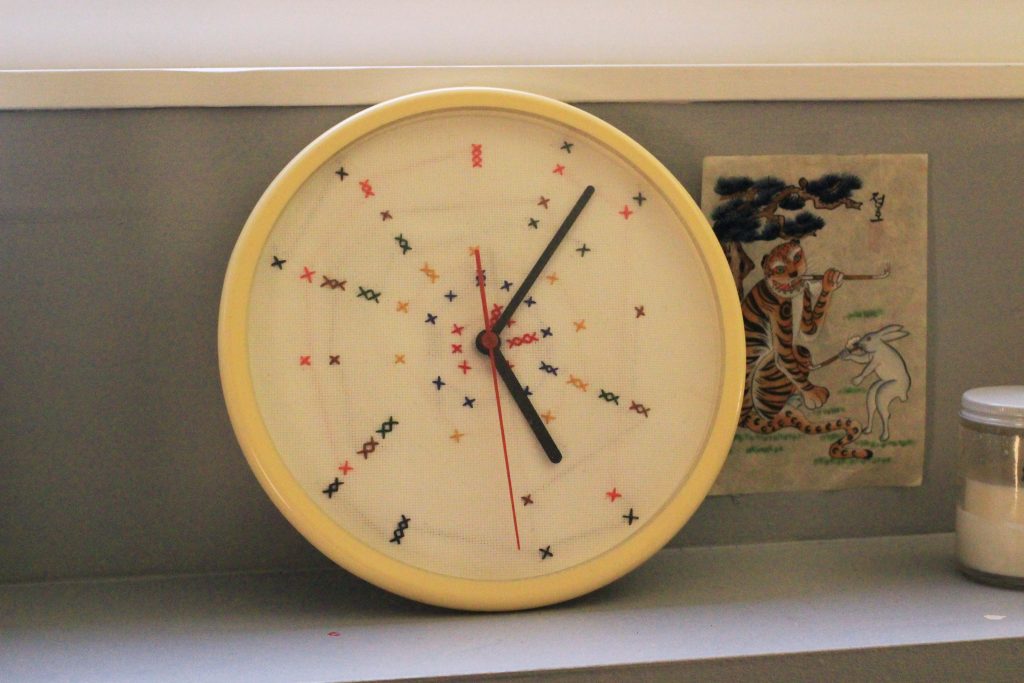 Reflection
This project of self-investigation with time somehow made me travel back in time. I remembered how much I enjoyed cross stitching as a little kid. I stitched flowers, characters, numbers and many other things and gave them as gifts to my family. Last time when I cross stitched was probably back in my middle school. I don't know when and why I stopped, but getting back to this practice after so many years brought a lot of nostalgia, and lost memories of my childhood.
When I was sharing this work in the studio class, we had interesting discussions around productivity as one of the major modern values that influence our day-to-day lives. Louise asked us a question: When was the last time that you forgot about the time?
To answer this question, the first thing that came up to my mind was camping. When I spend time in nature camping, I wake up when the sun rises and go to bed when the sun goes down. Far away from obligations and artificial surroundings, I put my phone on silent and try to live present moment as much as possible. I also lose the track of time when I'm really immersed in the way I'm spending my time, just like when I was cross stitching for this project. Things that I enjoy doing eliminates the notion of time in my head, and all the to-do-lists disappear…