For this project, I chose four themes that would encapsulate my research up to this point. It was important that I considered the direction or tracks that I would be using going forward. The four themes are:
Connections
Explorations
Realizations
Narrative
Connections
For me, this theme investigates my own personhood. This stems from my environment and its subsequent inception of enchantment. Which, in turn, propagated my curiosity for creative outputs (which seemed more foreign or western). It is rooted in the story of my parents, from their immigration to their professional paths. And it culminates with my academic and professional pursuits in direct and indirect response to all of these factors.
Growing up near Grouse Mountain in North Vancouver, my playground was the forest. Dropping off my backpack at the end of school and running into the woods was a normal routine. The typical soundtrack involved my mother yelling (in a mixture of English and my mother tongue), "Don't go past the stream". As a child I was enchanted and bewildered by the forest. From the ground coverage of organic material, to moss covered logs, the sweet smells of cedars and the dew-covered ferns, this fish in the rivers and the black bears who followed. Directly taken off of the stems, the berries provided my afternoon snacks. My next-door neighbor was a forest ranger and a wood worker. I couldn't believe that his job involved working in my playground and that his chosen activities involved turning that precious resource into beautiful objects. Again, these interests that would later become passions, seemed like they were born out of my western or Canadian upbringing, and they were somewhat alien to my parents who were immigrants. Like so many things in my life, they would try to enable or provide avenues for my learning or activities outside of academia. But without any first-hand experience, it was often something that I would have to discover on my own.
I wanted to work outside, study trees, and learn to craft/build using advanced tools. I chose to study Forestry and Conservation as an academic track. In a way, this also honoured my parents' professions as my father was an engineer in the pulp & paper industry and my mother was a botanist at UBC. This degree eventually led into a professional track that was not in ecology, but rather in design.
Explorations
This theme is practice-centric for me. It grounds me and informs so much of what I do. Material engagement, design, and fabrication are the main elements of this theme.
A Longstanding Acquaintance
Referring back to my previous theme, I'm no stranger to wood. In fact, my original enchantment with trees led to my passion for study. This allowed a very unique perspective as a whole. From a biological understanding, into processing and manufacturing, aesthetic and functional properties, prototyping, and to product design. For this project I chose to work with Baltic Birch Plywood. Birch is generally a hardwood that is lightweight and strong with a white sapwood and golden-brown heartwood. It is odorless and easy to work with. Resembles Maple in its colour and grain patterns.
Unlike what the name implies, this plywood is composed with a variety of Eurasian Birch species. The result is the highest quality plywood that can be found. However, due to its high demand and limited production (due to Covid), its cost has increased while its availability has decreased. Alternate, lower grade plywoods have filled that void. For the last decade the plywood that I've been using is low grade, southeast Asian. So, the opportunity to work with Baltic Birch was irresistible, however due to scarcity and cost I needed to design to optimize the limited material I could procure.
Material Agency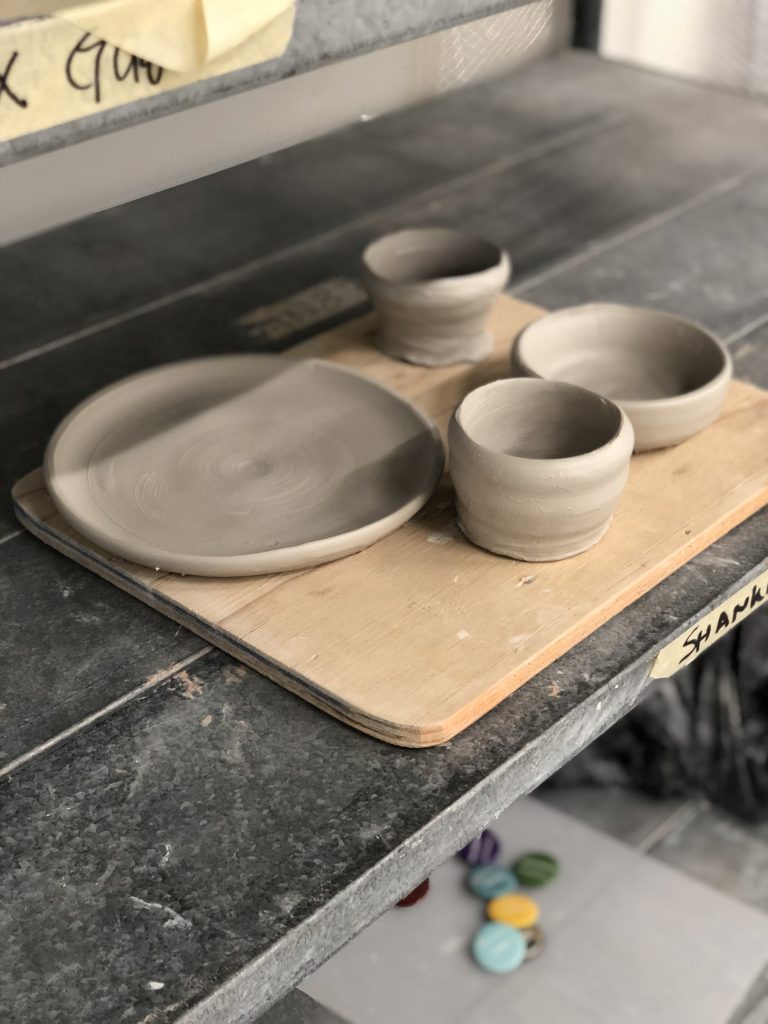 My next exploration was in ceramics. Throwing is a new skill that I just began in May. It is a wonderful test in humility. The clay itself has so many properties. From wedging, to throwing, trimming, and firing. It undergoes so many transformations in its texture, malleability, color, temperature, and hardness. Due to the many challenges that ceramics presents me, I would stipulate that I have zero agency. The clay has all of the agency and I have no say over "what's going to happen". The process occurs and an object is created without any pre determination or deliberation.
Realizations
This was a difficult theme to investigate and largely sits as a point of reflection. It is dynamic and will continue to change. For this project, it revolved around 3 prompts:
How do objects inform/shift/challenge my understanding of self, community, and place?
What is a common thread connecting all of these material explorations?
How are they connected to my identity, expertise, and knowledge?
The conclusion that I take away is that I am an object maker and ultimately the relationship between those artifacts and my other themes is the realization.
Narrative
There is quite a bit to unpack with this theme. There are narratives that centre around my personhood. This includes my enchantment with nature or my cultural journey that have taken me across the world and given me so many life-shaping experiences.
There are narratives to be found in material studies. Trees have identity and they contribute and often shape an entire ecosystem. They can also be transformed into a material that is then used for a completely different utilitarian or aesthetic purposes, whereby completely changing the narrative.
In the end, I'm leaning towards a narrative that is centred around a design fiction that has yet to be written. The connections, explorations, and realizations will come from there.